William Derry
Staff Writer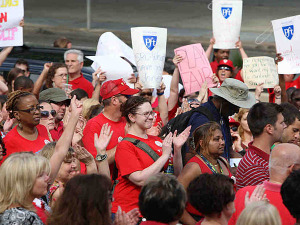 Image Courtesy of philly.com
On Tuesday, October 28, Common Pleas Court Judge Nina Wright Padilla made an order to hold up the changes that the School Reform Commission (SRC) announced on Oct. 6. The SRC attempted to cancel the Philadelphia Federation of Teachers (PFT) contract, saying it would save millions of dollars for the district annually. The Teachers Union responded by filing several legal motions in response to the SRC's decision. The School District of Philadelphia appealed Judge Padilla's ruling and now the ruling will be heard in Commonwealth court.
Both parties feel as though the ruling was beneficial for their respective side. PFT members were going to have to start paying a part of their health care expenses on December 15. The school district had planned to save $54 million dollars from the contract being cancelled but that is being called into question as well.
The School District knows that this ruling will get them one step closer to a final decision, that could possibly affect schools and students this year. PFT paused their unfair labor practices complaint and requested an accelerated arbitration process.
Scheduling a date for oral arguments in the case, is next for the Commonwealth court but this is not expected to happen for a few months.