Zoe Kwasnicki
Staff Writer
An icon of the 1980s, the mullet was worn with a short, crew-like cut in the front and tumbling hairspray-covered waves in the back.
First an act of rebellion and then a more mainstream trend, the mullet was first introduced as a hairstyle by the one and only David Bowie. Bowie's androgynous style pulled on the mullet as a gender-line blurring accessory – the shorter hair representing more masculine hairstyles and the longer hair, a more feminine side.
But despite my love for David Bowie- I simply cannot love the mullet.
Sure there are a few dreamboats of the 80s who rocked the hairstyle, but there are so many more who just….didn't.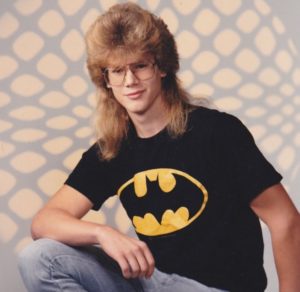 And with such an arbitrary hairstyle, capable of either highlighting someone's best features or hiding them under a fringe of feathered bangs, I prefer to just avoid it all together- and I believe you should too.
But fanny packs are a different beast altogether. What first began as a mocked accessory only appearing on the waists of the suburban elderly has now turned into an object of utility and fashion.
I was both mortified and humored when I saw the sequined fanny packs hanging from mannequin's waists, brushing it off as one more store's attempt to be "trendy" – but then I saw it again and again and again. Skaters with fanny packs slung over their shoulders, hipsters modeling fanny packs to look "edgy", and even punks using fanny packs to carry around cassette tapes and emergency studs – all while the elderly continue to use fanny packs as a way to carry around their pills.
What is essentially a miniature backpack sewed onto a belt has transcended age, gender, and sanity… with me abandoned as the last person to reject the trend
.