Amelia Benamara
Staff Writer 
Only a little over a month into the 2018 senior year, students already have senioritis. This isn't shocking to teachers and staff at SLA, but students did not expect this so early in the year.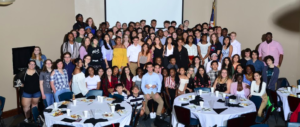 There are multiple students who decided to commit to the Early Action or Early Decision deadlines due just at the start of November — a date that's soon to come. More seniors take daily trips to the college office as November 1st inches closer.
One of these students struggling is me. Like many of my fellow seniors, I have decided to commit to the early action decision for most of the colleges on my list. This summer, I was given the advice to do early action and to prepare for the fall because it will be hard to balance college applications and school work. I prepared myself less than I should have this summer, and now I am regretting it.
I was enrolled in a college course, continuing my internship, and working on top of that which made it difficult to prepare anything for college with the very little free time I had. I realized that as I get older and closer to being an adult, I have less time on my hands — even during the summer. The shocking part is that I grew so fond of staying busy that when I see myself unoccupied, it feels unusual.
I came into school thinking that senior year — at least just the fall semester — wouldn't be stressful and that teachers would take it easy on us, but I sadly thought wrong. I have never felt more stressed in my life. Everything that can possibly go wrong has gone wrong. Talk about perfect timing!
The application process isn't stopping teachers from piling work on top of students. This is part of being young adults who are soon to enter college. Stress? We haven't run into real stress just yet.
The amount of panic attacks and tears I have witnessed so far this year is unexpected. Ms. Hirschfield's (SLA's college counselor) office does the best she can, however, the amount of stress towards the college process is understandable, as the senior class is huge.
In my opinion, SLA's system for seniors in the college application process is a bit flawed. The process everyone is taking is very individual where they go through their own process and if help is needed they take a trip to the counselor's office. However, the problem with this is that there are way too many people who do not know what they are expected to be doing.
Another reason for the stress that seniors have is the many low SAT scores. I constantly wonder why a school like Central has very high averages for the SAT until I found out that Central students are required to take an SAT prep class all throughout their high school years. SLA is a project based school which is more the reason why an SAT prep class should be required. Now, multiple seniors are stressing about their low SAT scores because of the fact that SLA has given no amount of test prep all throughout the 3 years of their high school experience.
Is this level of stress avoidable? Or is this all planned to push students to learn skills for serious responsibility before college? Either way, this is only a phase which will soon be over. The senior activities planned for the rest of the year are soon to come almost like a stress reliever because, at the end of the day, we will all miss High School — the good that comes with it and as well as the stress.