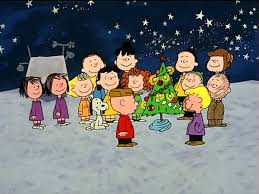 Dylan McKeon
Staff Writer 
Holiday specials have alway felt a bit strange for me. Similar to the box of Christmas decorations in the basement, I never remember anything about the coming holiday until December comes around. It's alway a weird feeling to turn on the TV after Thanksgiving and have hundreds of classical holiday movies announcing the season. For me, they're a part of the classic holiday experience as well as a sign of the changing season, the moment where you know it's time to get ready for winter.
In 1962 "Mr. Magoo's Christmas Carol" was the first animated Christmas special. Before this the holiday specials were typically live action adaptations of Christmas stories. The popularity of Mr. Magoo lead to many more animated specials we know and love today like "Rudolph the Red-Nosed Reindeer" and "A Charlie Brown Christmas." The popularity of the Christmas specials grew as variety shows began to die out in the late 80s. More specials were released and the heartwarming stories and characters became more popular than ever.
Why do these specials keep coming back year after year? It's because they have managed to bridge the gap between modern technology and the old traditions. The best example of this is the aluminum Christmas tree which was quite popular until 1965, when "A Charlie Brown Christmas" which managed to point out the commercialization of Christmas with the aluminum tree as the prime example. This lead to many people switching to real trees, and two years after the special the aluminum trees were no longer in production.
In my humble opinion, the holiday specials simplify cannot be watched any other time of the year, as doing so would completely ruin the emotions behind them. It feels like there made to be forgotten until winter comes and we can all gather around and remember all of the excitement and happiness of the holidays. For me the specials serve as a reminder of the traditions and hope that the holidays bring, on the coldest time of the year and is likely to continue for many years to come.