Adrie Young
Staff writer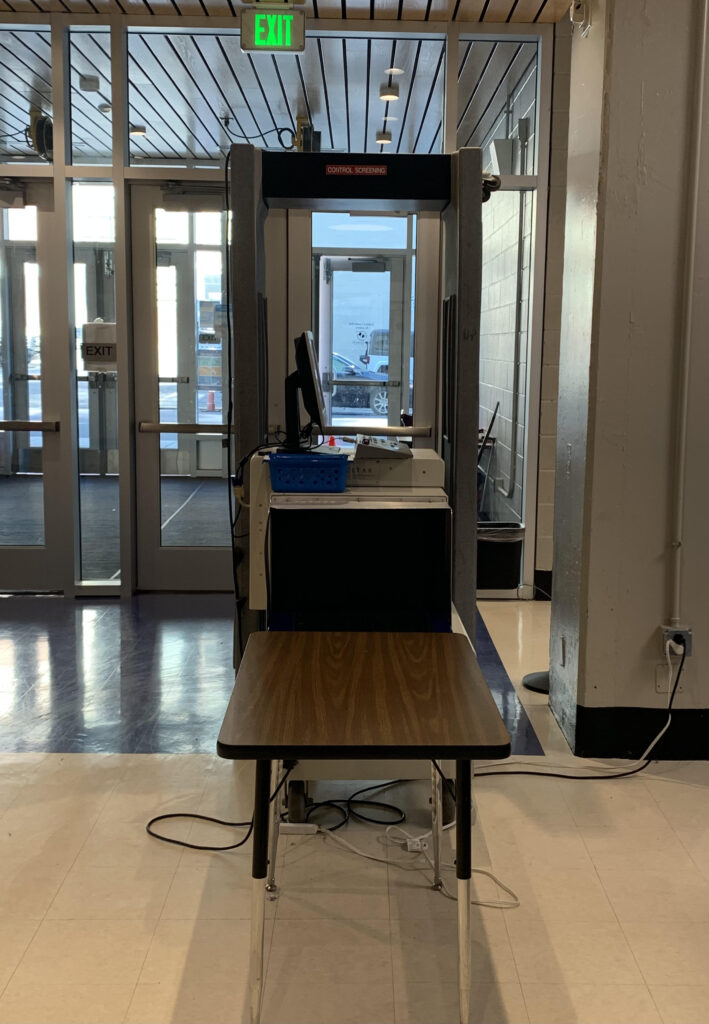 Each morning as students enter school, we put our bags through a scanner and walk through a metal detector. We do it so often that it has become a mindless ritual.
So I was surprised when, one morning a few weeks into school, a security guard stopped me as my bag passed through the scanner.
"You know you have two metal forks in your bag, right?"
"What?" I was surprised. At the beginning of the year, I had worried about getting my metal utensils into school, but I'd never had an issue with them since school started.
"You have two forks in your bag," he said again. "Just so you know."
"Oh. Thank you." I laughed, then grabbed my stuff and headed towards the stairs.
The next morning, a different guard stopped me at the metal detector.
"You have a metal fork in your bag."
Again? I thought to myself. This is weird.
"You can't bring that into the building," the guard continued. "I need to take it from you."
I unzipped my bag and handed him my fork. But as I walked away, I remembered that I still had the extra fork that the first security guard had told me about – and hadn't confiscated – the day before.
At first, my two fork-related encounters were fun stories to tell my friends. But it made me wonder about what we can and can't bring to school.
I looked through the School District's Code of Conduct and the SLA student hand book, but found it surprisingly difficult to obtain information on what objects we are not allowed to bring to school. 
I decided to ask Principal Lehmann, who directed me to the Philadelphia School District Office of School Safety's directive on search and seizure. The document states that "students and visitors entering a school… are subject to a search of their physical person and all items in their possession by means of metal detectors, X-ray equipment, or by hand, for the purpose of preventing the introduction of weapons, contraband, or illegal items."
My fork had likely been confiscated because of its potential as a weapon. But was that fair? The same document defines a weapon as "any object, device, or instrument that is designed as a weapon or that is capable of threatening or inflicting serious bodily harm or which may be used to inflict self-injury."
A fork is not designed as a weapon. A fork is technically capable of inflicting bodily harm, but so is a pencil or pen. So where do we draw this line?
In addition, not every metal utensil is confiscated. I had brought many forks to school before one was finally taken.
If the school district is going to have rules like these, they should either be enforced all the time or not at all. This inconsistent enforcement left me confused and unsure of what to do.
But it turns out that I wasn't the only one who noticed these inconsistencies. Mr. Lehmann informed me that around late September, after a discussion with the Office of School Safety, it was decided that metal utensils would be allowed into the building. I was happy to hear that I could bring a metal fork to school again. Or two.