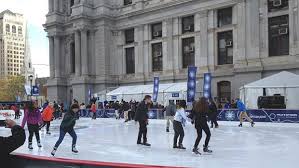 Dylan McKeon Staff writter
Having opened on November 14, The Rothman Institute Ice Rink in Dilworth Park is bringing an extra touch of winter to Philadelphia.
Personally, I am tremendously horrid at ice skating. My last experience was in 7th grade, therefore I was not expecting to do very well or enjoy the experience much. However, I found it quite nice, despite my extremely poor skill.
There were many families and people of all ages enjoying their time on the ice.Despite the large amount of people around, the rink was not as crowded as I expected with plenty of room to skate, hold on to the wall, and fall over.
The area is very festive with quite a bit of lights and nearby holiday attractions. The rink is very nice, it is made with real ice rather than the synthetic ice, like most of the other ice skating rinks use. It's only eight blocks away from Science Leadership Academy and very easy to get to with public transportation. It's quite ideal for students after school, as the park opens at 3p.m. on weekdays.
On the whole, the rink is a very nice addition to the park, giving many in the neighborhood an opportunity to take a break and experience one of the fun sides of the winter season. It also provides an easy-to-access second location for outdoor skating, since the Penn's Landing rink is harder to get to.
The ice rink will remain in the park until February 22, when the rink will be taken down to make way for warmer activities. Until then, the ice rink is open all week for 3-4 dollars a person with an extra fee for renting skates.
The Rothman Institute has sponsored the rink for three winters, after which either a new sponsor will support it or it will close down. However, it seems unlikely it will lose support as it is already becoming a nice fixture on the west side of City Hall.