Sukainah Hasan
Staff Writer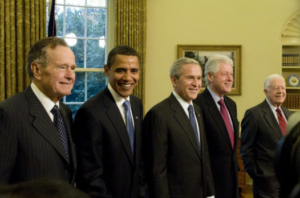 On a typical afternoon a few weeks ago, I was going through my Instagram explore page when I came across a video that included President Trump, his wife Melania, Barack and Michelle Obama, and Bill and Hillary Clinton at George H. W. Bush's funeral. The 41st president died on November 30th, and the services were held on December 5th where lots of people came to show their respects.
I watched the video several times.
After President Trump and his wife showed their respect for the former President, they greeted the Obamas in the pews, but not the Clintons. This was unusual because Trump has said many terrible things about Barack Obama but when Trump sees Obama in person, he shows respect for him. When Trump was first elected as president, he visited Obama at the White House and everything was great, but when Trump was explaining to people why he should be president, he was bashing Obama about the way he runs America. If Trump can have respect for Obama when they are in the same room together, why can't he have respect for him when they aren't face to face?
Another ominous thing about this scene was that Trump didn't greet the Clintons. The snub appeared to be mutual — the Clintons paid no attention to him. Bill Clinton was the 42nd president and served 8 years. When Barack Obama was running for President, Hillary Clinton was also seeking the nomination for president. She didn't get enough votes to become the Democratic candidate, and then Obama became the 44th president. Hillary decided to run again in 2018  against Donald Trump. She did with the Democratic nomination but lost in the general election and Donald Trump became the president. Since Donald Trump won, does this mean that she is mad that she didn't? Did this lead to why she didn't say anything to Donald Trump? According to The Guardian, a website that talks about what Hillary Clinton said after she found out that Trump won, it says, "We must accept this result and then look to the future. Donald Trump is going to be our president." This shows that when Donald Trump won the presidency, she didn't have much to say about it except that this is what will look forward to in the future.
There were even more former presidents in the picture. When George W. Bush arrived at his father's funeral with his wife Laura, they went to the Obamas to greet them all while ignoring the Trumps. George W. Bush was the 43rd president and served 8 years. Since Bush ignored the Trumps, I think this shows that he doesn't respect the Trumps. If he did, they would have greeted them. Did Trump know that Bush didn't like him? If he did know, why did he come to the funeral?
Then it got even stranger. While Bush was greeting the Obama's, he reached in his pocket and gave Michelle Obama a handful of candy. All Michelle could do was smile and thank him. After the Bushs greeted the Obamas, they greeted the Clinton's by giving them hugs and smiles.
To me, the situation is clear. The Clintons, Bushes, and Obamas all have a close bond with each other, while the Trumps are left out. Since Donald Trump is left out of this bond, it shows that as a leader, people don't respect him. As a president, it shows that people don't like what he is for the United States. Donald Trump's saying is "Make America great again," but do people really think he is making it better?