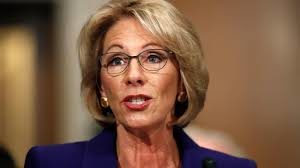 Column
Aaron Watson-Sharer
Editor
On February 7th, I sat in class like any day, surfing the web. But this time was different. I sat expecting the worst on Twitter live, waiting for a decision from the Senate hearing of Betsy DeVos. It took only a few minutes to accept our reality. A reality that party lines are far more important than making the right choice, as only two Republican senators crossed the line to vote against Betsy DeVos. The vote was at 50-50 which was broken by Vice President Mike Pence.
Our principal, Chris Lehmann, is an avid public school advocate certainly isn't enthused by the decision. He felt disappointed that Devos was nominated as Devos "represents a lack of respect for the work of schools given her lack of experience." "She's dangerous to K-12 education, public education and higher education."
So who exactly is Betsy DeVos? Pretty much who SLA wouldn't vote for. DeVos is a billionaire whose husband runs one of the largest corporations in America. DeVos comes from the world of wealth and politics, where she's donated $10 million dollars of her own to the GOP.  As a family, she said it's "very possible" the DeVos family has donated neatly $200 million dollars to the party.
Betsy DeVos is a pro school-choice advocate (which isn't bad for a magnet school) and a heavy believer is Christian learning and its relevance in the American classroom. That means she wants to make public schools into Christian private schools with public school dollars. If they can't be privatized, make them charters. She worked her strategies once in her state of Michigan with a voucher system, which Principal Lehmann believes could be funded by cutting title funding. Now, her old city of Detroit has the largest rates of charter schools in the country, and the schools she has backed have declined in test scores.
She actually has no formal experience in public education. She and no family of hers has been student or faculty in the system. DeVos also in her hearing had what appeared to be no knowledge of the 1975 Individuals with Disabilities Education Act, the staple for any accommodations and needs for students in a classroom. Principal Lehmann sees I.D.E.A as "how we prevent the disenfranchisement of students with special needs and the idea she has a profound lack of knowledge and it's terrifying to me as a school principal and a parent. She has shown time and time again she's deeply unqualified for the job." With such poor knowledge and background the pick for Betsy DeVos as Secretary of Education proves money plays, as her donations to the party and 22 of the 50 senators who voted for her suggests.
So we have Betsy DeVos as the secretary of education now. As unqualified as she sounds I and our principal see no true positive to her in this position. As a public school, you have to hope what she's done to Detroit won't come to fruition in Philadelphia.