Vilma Martinez, Staff Writer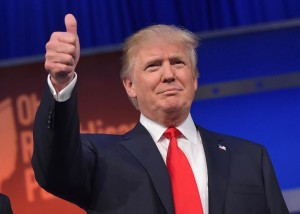 Donald Trump as president. You have got to be kidding right?!
This is what I first thought, but it seems to be true. There are plenty of american citizens that are willing to vote for Trump.  Many of his positions appeal to American citizens, but there are other statements he has made that bother a lot of Americans.
Take Trump's first commercial. Here are the big points that he made:
He wants to "temporarily" muslims from entering the U.S

Has plans to "decapitate" the Islamic state

Plans on building a physical wall on the Southern border that Mexico has to pay for
I look at this and think it is crazy. I understand he wants to get rid of ISIS, but why attack muslims as a whole when the vast majority of them are not  involved with ISIS? To add on the shutdown of Muslims entering the United States is absurd. Many Muslims in war-torn countries like Libya, Egypt, Iraq, and Siberia are suffering at the moments and come to the U.S to seek help from us. Taking that away would be like taking their lives away due to the fact that Muslims are not safe where they are now.
Finally, building a wall on the Southern border is the most ridiculous idea ever. Not only that, but Mexico have to pay for that wall to be built, the wall he wants to build. A wall is definitely not going to stop immigrants from traveling in the U.S. if El Chapo, one of the most known drug lords in Mexico, had the ability to escape out of prison through a tunnel,  imagine the way immigrants would get in. (Which is saying alot considering that most of the tunnels El Chapo built still have yet to be discovered.)
My problems with Trump do not end with the ad. The next issue is that there is a very recent "feud" between Samuel Jackson and Trump. Trump signed Jackson up for a golf club which he did not know until he got a bill for golfing at the club. Trump went as far as to say that he barely knew anything about Jackson and he did not recall playing golf or even hanging out with Jackson. That was when Anthony Anderson (another actor) came to the defence and said that Trump lied, that at some point in time the three of them have gone golfing before. Many other political figures defend Jackson saying that Trump does indeed know him. Trump actually continues to communicate with Jackson in attempts to "hang out" with him. We all know and have seen that Trump likes to attack, and that he hold grudges against all kinds of people.
Jackson was not the only one who has been attacked by Trump. He continuously attacks fellow Republican candidate Ted Cruz. Trump  recently went as far as to tell CNN News that Cruz should ask a  judge if it is ok for him to run for president due to the fact that he was born in Canada and it might create a big problem. Then he goes as far as to say the following; "I do like Ted Cruz, but not a lot of evangelicals come out of Cuba.".
Trump's behavior continues make people question him as not only a presidential candidate, but also a person. Looking at all of the drama he has brought to the political table, how could people actually want him as a president? I understand that he has a few good plans for the country, such as helping the country get out of debt (he has recovered from past debt situations), and keeping Medicare and Social Security untouched, but when you look at the overall image, it is not a really nice thing. I certainly don't want Trump as president.