Eric Valenti
A&E Editor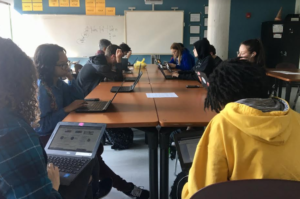 People enjoy SLA for the special way of learning and the independence that the students are given. Personally, I enjoy SLA for the freedom that I have and I definitely appreciate the fact that I found a school that appreciates my voice. But it wasn't until journalism that I learned what freedom of expression truly was.
When I first joined journalism I didn't really expect much. There weren't many electives that I thought I would enjoy and this seemed like the closest thing to a creative writing class. At first, I felt that the class was quite mediocre and didn't offer much freedom of expression.
This opinion lasted until the first pitch week. It was an organized explosion of voices. This group of students who you would never think would get along or even hang out with one another would spend every Tuesday to just throw out gossip and thoughts about SLA.
People had ideas ranging from their opinions on Fortnite to something as serious as sexual harassment in the school district. Journalism allows people to be able to ask the questions that don't get asked.
I took note that this year's class is much smaller than last year's. I have a slight knot in my stomach that this may become sort of pattern and every year less and fewer people will join journalism. Though journalism may not play a crucial role in SLA or even matter to many people it deserves more appreciation than it gets.
I wish more people acknowledged journalism. When people talk about Slamedia most people don't know what it is or don't want to take the time to read the articles. SLA is unique in the way that we value the student's voices and encourage them to speak up. Whether or not things at SLA actually change is debatable. But journalism gives students a chance to write about whatever they want.
Without journalism, people would be at a loss of information and wouldn't know what is going on. Though information today is constantly warped and confused, and almost all reporting has some sort of bias in it, journalism offers a free voice.
Journalists are meant to act as the voice of the truth. Whether or not this article is just early jitters about this class ending, I do hope the few people that do read this article take some time to recommend ideas to the journalism team, read and comment on articles or maybe even join journalism for a chance to express their voice to people who care.