Brendan Hall
Staff Writer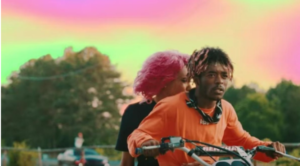 On November 28, 2017, it was announced that Lil Uzi Vert had been nominated for Best New Artist at the Grammy Awards. He was nominated alongside of other notable singers, SZA and Khalid. However when further evaluating the nominees they come nowhere near Lil Uzi's influence in Hip-Hop and music in general.
Lil Uzi Vert has been a major influencer in the up-and-coming rap scene since late 2015. But what makes Uzi such a force to be reckoned with?
One thing that sets the Philadelphia artists apart from his competition is his wide range of influences. The multiple time platinum selling artist draws inspiration from controversial rock stars Marilyn Manson and G.G. Allin. However, he also is influenced by modern Hip-Hop acts such as Young Thug, A$AP Rocky, Wiz Khalifa, and Chief Keef. This eccentric blend of styles has molded Uzi into a self-proclaimed "rock star".
Uzi has pushed away from being boxed into one genre, a  decision that rocked the world of new school rap music. In an interview with Hot 97 in February of 2016, he stated that he didn't want to be labeled as a rapper. In June of that same year one of his peers, Lil Yachty, also stated that he wanted to not be labeled as a rapper.
Uzi's ability to ditch the title of being a rapper paved the way for artists in Hip-Hop to escape the pressures of having to a "lyrical rapper". Uzi created a new lane for artists to express their creative abilities without being labeled as a phony.
While Lil Uzi has revolutionized the Hip Hop genre he also has received a fair amount of criticism from the older generation. He has been accused of not respecting older Hip-Hop due to the fact he refused to freestyle over old-school instrumentals. Other fans and critics questioned his lyric because they were very straightforward and repetitive. Lil Uzi Vert became labeled a "mumble rapper", a term which is dismissive of his lyrical abilities,
Despite the dismay of his doubters the 23-year-old crafted one of the most groundbreaking songs of 2017. "XO Tour Llif3" pushes the boundaries of the Trap Music, based on its subject matter.
Trap music has been infamous for a repetitive set of subject matters involving rapper cliches that include: being rich, being tough, dealing drugs and objectifying women. However,  "XO Tour Llif3" is a song where Uzi is opening up to the downsides of abusing opioids, his love life, and his mental health. The refrain of, " don't really care if you cry, On the real you should've never lied, Should've saw the way she looked me in my eyes, She said baby I am not afraid to, die Push me to the edge, All my friends are dead, Push me to the edge," is something that was unheard of in the trap genre a decade ago. This song was so groundbreaking in part because it's  unlikely that his peers could create a song with this subject matter and come across as being sincere.  
Despite Uzi only receiving a mainstream audience three years ago his style already starting to be mimicked by others. An example of this is one of Hip Hop's new rising stars, 18-year-old rapper Trippie Redd.
There are some obvious similarities between the two but the two most distinct is that they harmonize over beats with the same vocal inflection and they have similar subject matter in their songs. Similar to Uzi Trippie Redd also displays themes of heartbreak in his music. On Trippie Redd's breakout hit, "Love Scars", he sings
"You used to say you in love I used to say that shit back Taking that shit from the heart Now look where the fuck are we at Girl you got me, just going out bad Love scars, you got me real sad".
This is comparable to the heartbreak detailed on XO Tour Llif3. They both compare themselves to rock stars; Uzi compares himself to Marilyn Manson while Trippie compares his vocal inflection to Gene Simmons of Kiss. There are also unreleased snippets of Trippie Redd songs where he sings about his suicidal thoughts the same way Uzi did on XO Tour Llif3. ("Might go M.I.A. might just go blow my brains I'll be Kurt Cobain"). However, what is the most telling testimony towards Uzi's influence is "Can You rap like me" by Trippie Redd. In this song Trippie Redd spits his best battle rap bars over a jazzy hip hop instrumental, proving he has lyrical skill. However, he has no other songs that sound like that lyrical track. Trippie Redd decided to instead focus on making melodic trap influenced music that is comparable to Uzi. Lil Uzi's influence is so massive that it led to Trippie abandoning his lyrical talents in pursuit of imitating Lil Uzi Vert's sound.