Avi Cantor
Staff Writer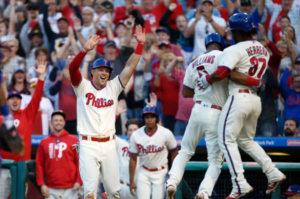 The most powerful word to describe the Philadelphia Phillies this season is "if."
The Phillies have added power-hitting first baseman Carlos Santana and 2015 Cy Young Award-winning pitcher Jake Arrieta to their lineup of young players, giving Phillies fans two guaranteed areas of production. However, the rest of their lineup embodies the word "if" perfectly.
One of 2017 most effective power hitters was first baseman/outfielder Rhys Hoskins, who hit 18 home runs and drove in 48 RBIs despite only playing in 50 games. That means that he averaged one home run for less than every three games he played.
Unfortunately, as many players do, Hoskins has an "Achilles heel" that could run his season into the dirt quickly: the California native has trouble hitting against left-handed pitching.
In 41 at-bats last year against righties, Hoskins batted a mere .171, a slugging percentage that was ten points under his percentage against lefties, and an OPS that was less than his OPS against lefties. Because of this, he has the potential to either flourish like he did in 2017 or flop like several of his teammates have after their rookie seasons. One of these players is third baseman, Maikel Franco.
The Dominican Republic native started seeing regular playing time in the season of 2015 and flourished into a bonafide fan favorite by the end of the season. Franco finished off 2015 with 14 home runs, 50 RBIs, and a batting average at .280.
Franco was rewarded with much more playing time in 2016 and did a fine job. Despite having a lower average, Franco hit 25 home runs and 88 RBIs. Franco is also an excellent fielder, making only 13 errors in 148 games. That's just three more errors than fellow Third Baseman Adrian Beltre, who won the Golden Glove award for outstanding fielding.
However, in 2017, Franco struggled to put up the same numbers as his past two seasons.
The Dominican Third Baseman did worse than his last season in more than ten categories including batting average, fielding percentage, RBIs, home runs and double plays grounded into. If Franco continues this downward trajectory in statistics, the Phillies will have to scramble to find someone else to put at third.
Moving on to the player to Franco's left, Shortstop J.P. Crawford shows an immense amount of potential. The Phillies traded away their previous shortstop Freddy Galvis for Crawford, and for good reason. The former first-round draft pick has a great feel for the position, has a strong throwing arm and is excellent at making tough plays. However, he's a very streaky player at the plate.
In his 23 games, the California native batted just under .215, compiled 15 hits while striking out 22 times. Crawford also hits fly balls frequently at the plate racking up nearly 35 fly ball outs. Given the fact that Crawford is a contact hitter, he needs to be able to hit the ball on the ground to get on base more often. Fly balls are not only easier outs but given his lack of power, fly balls don't benefit him. However, two players who do benefit from hitting fly balls is outfielders Aaron Altherr and Odubel Herrera.
Altherr and Herrera combined last year for 33 home runs, nearly 250 hits, 107 extra base hits and both had averages hovering around .275. Both players are also very effective forces in the outfield. Altherr leads the National League in double plays from the outfield while Herrera led the League in outfield putouts. However, neither player is flawless.
Fans constantly wonder how high Herrera's baseball IQ is due to his ability to make boneheaded decisions in the outfield and swinging at pitches that are nowhere near the strike zone. In fact, one anonymous fan went on Philly's 94WIP sports radio station and said that Herrera had a "tapioca brain."
Altherr, on the other hand, has only started seeing real playing time since last year. The Phillies are notorious for having "one hit wonder" players who have great first years, but manage to string together several seasons of mediocrity or worse.
Even if all of these players play good baseball, Phillies fans still have one thing to worry about. Despite being the club's skipper for a mere eight games, Rookie manager Gabe Kapler has already begun to stir up controversy.
In a game against the Braves on March 31st, Kapler put in reliever Hoby Milner to replace starting pitcher Vince Velasquez. This move made sense to fans due to the fact that Velasquez struggled mightily, giving up 7 runs in less than three innings. However, the problem with Kapler's move was that he didn't tell bullpen coach Jim Gott that he was putting in a reliever. Because of this, Milner came into the game cold which could've resulted terribly for the Phils.
To make matters worse, the Phillies would go on to get smoked by the Braves 15-2 on 19 hits while making a season-high of four errors. Since then, Kapler has been blasted by fans, local media outlets, and even his own players.
Outfielder Nick Williams criticized his choice to consistently leave him out of the lineup saying "I guess the computers are making [the lineup]". This jab at Kapler's strategic moves based on analytics created turmoil in the clubhouse that has likely resulted in the Phillies starting off under .500. However, Kapler has bounced back from bad situations in the past.
In his 12 year career in the Major Leagues, Kapler played for seven American teams and one Japanese team. In that time he's been forced to bounce back from trades and low expectations. The Phillies manager was drafted in the 57th round and became the first Tigers player since the inception of the draft to be picked as late as he was.
So, back to the beginning of this column: If the Phillies are able to milk the talent out of the plethora of young talent that they have and if Gabe Kapler handles being the ringleader of this team, the Phils will be a force to be reckoned with in the National League East.