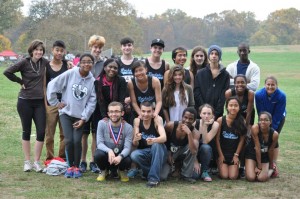 By Nomi Martin-Brouilett
Staff Writer
The SLA Cross Country team just finished one of its best seasons, so far. Students Wynn Geary, Matt Ferry, Serena Shoeman, Katherine Hunt, and Desmond O'Donovan participated in the Statewide races.
"I'm really excited that 18 runners had a strong finish to the end of the season, almost every runner yesterday set a Personal Record" says Cross Country Coach Stephanie Dunda.
To compensate for the loss of last year's seniors, many hard-working freshman like Desmond O'Donovan, the Bells sisters, Amelia Stuart, Tenzin Shemi, August Polite, and Kevin Courtney  joined cross country and ran with great enthusiasm.
Senior Matthew Ferry was named the fastest Public School Runner in Philadelphia.
"I really did not think I would even have a chance." states Ferry, "During my Public Champ race though, I found the strength to push the race, and found myself crossing the finish line in 17:54 with Raheem Henry of Germantown right behind me."
It's not always been easy, and the training is rigorous. "On Mondays, we do a tempo run, on Tuesdays we always run hills, Thursday is the race, and Friday is the recovery and stretch day," says Dunda, "Consistency and attending practice is key for attending race day."
Also, nutrition is somewhat of a problem among the Cross Country team. "One thing that's hard for us to help runners with is their nutrition, many runners still make bad food choices especially on race days." says Dunda. The coaches do their best to encourage healthy eating habits for the team members.
Not only does Cross Country help improve students PRs, but it also helps runners in other aspects of life. "Our goals for the season and for life are to enstill the love of running so that students will be healthy for the rest of their lives" says Dunda.
"I get to know other people in other schools." says Sophomore Aaron Tang, who is new to the team this year.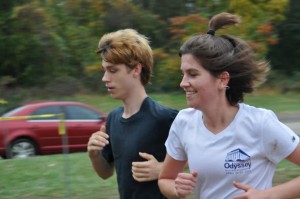 "Cross Country taught me that you only get out as much as you put in," says Matt Ferry, "I attribute much of who I am today from what I have learned through running cross country and track."