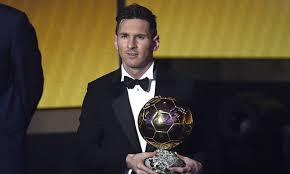 Staff Writer Micah Henry
The Ballon D'or, or the Golden Ball, award is given to the best male soccer player of professional world soccer from the previous calendar year, for this year, it is awarded on January 11th, 2016. Each nominee receives votes through national team coaches, captains, and journalists from around the world of soccer. Every soccer player dreams of getting this award. The award was founded in 2010 when France Soccer Ballon D'or and the FIFA World Player of the Year combined to create the one award for the best overall male soccer player. The FIFA World Player of the Year is now strictly a women-only award for the best overall women soccer player of the year.
Every soccer player dreams of winning this award, but as long as players such as Lionel Messi, Cristiano Ronaldo, Neymar Jr, Luis Suarez, Andres Iniesta, and Franck Ribery are alive and well, the award will continue being dominated by the select few. Specifically, dominated by the great Cristiano Ronaldo and the world class player, Lionel Messi. Since 2010, Messi and Ronaldo have won every award, from 2010-2012, Messi won, for 2013 and 2014, Ronaldo won, and this year, 2015, Messi won once again. Oddly enough, for runner ups, in 2011 and 2012, Ronaldo earned that title, for 2013 and 2014, Messi earned the title, and this year Ronaldo respectively earned the runner up place. They dominate this award.
The question being, however, did Messi deserve the award over the great Ronaldo, and the unsurprising third place winner, Neymar Junior who is taking the soccer world by storm at age 23, to be 24 in a few weeks, on February 5th. In 2015, between La Liga and Champions League, Messi total 39 goals, and when averaged, it showed that Messi scored a goal in all competitions every 61 minutes, in comparison to Ronaldo's 64 and Neymar's 83. Beyond that, Messi totaled 19 assists, two more than Ronaldo at 17 and five more than Neymar at 14. This correlated with him recording a whopping 2,008 total passes, Neymar not even close with 1,191 and Ronaldo way for back with 1,262. This stats helping support the notion that Messi did deserve this award.
In interviews with respected world soccer fanatics, their opinions on the Ballon D'or winners were given in very different fashion.
Senior Rafi Hares shared his opinion.
"I do not think Messi should have won the Ballon D'or. A guy like Philip Lahm should have. He has one of the best defensive records in the world with no fouls last year, and just a technically sound distribution of the ball that is top class. The Ballon D'or is a popularity contest for forwards and offensive players. There is more to soccer than fancy tricks and goals."
In contrast, Senior Tomy Fleurine viewed Messi as the clear cut winner.
"Messi should have won because he carried his national team, Spain, to the Copa Final, and led his club team, FC Barcelona, to win every tournament they played in last season. He led Barcelona in scoring, tied for most goals in Champions League and most assists in La Liga. He is simply the best overall player by far and deserved this award."
As one can see, their opinions differed and were both just. Rafi essentially stated that the Ballon D'or favorites certain players and Tomy contrasted that argument by saying the players that win ultimately deserve to win. Rafi brings up the premise for an entirely different conversation, but the question is, did Messi deserve to win the 2015/2016 Ballon D'or? Based upon raw statistic, his influential play for his club and world team, and who Messi is as a player, there is no doubt he earned this award. Who wins next year? Only time will tell but Messi and Ronaldo are seemingly already leading the pack.