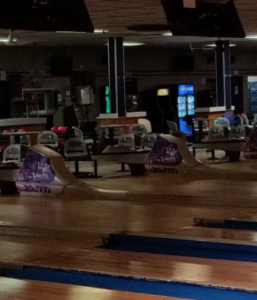 Adrie Young
Staff Writer
You may have read notes in the advisory memo or heard announcements over the loudspeaker about it, because a brand new sport has come to SLA: bowling.
"Bowling is a School District of Philadelphia sport, and it was always a Ben Franklin sport, but since we started combining athletics with them a couple of years ago we also had the option to have our students be a part of the bowling team," said athletics director Zoe Siswick.
The team began practicing in late November.
"If you like casual competition, it's the kind of thing where anybody can play. You don't have to be good to enjoy it," said History Teacher and Bowling Coach Daniel Symonds.
Before the season started, the team met at V&S Elmwood Lanes in Southwest Philly. "It was a very long commute. We took three forms of public transportation to get there…but once we were actually there, I had a good time," sophomore Jed Cohen said about the team's first practice.
"It's very enjoyable, even if you're not as experienced as the rest of the players," stated sophomore Max Riviere.
There was about a week or so for practices before the season began. Currently, there are matches every Thursday at V&S Lanes, through mid-February.
While this sport is new to SLA, it is established in the district. Many schools have bowling teams that compete against each other, and many bowling alleys have relationships with the School District. But there are a limited number of lanes available to the school. Because of that, the bowling team can only have 16 players total, from both SLA and Ben Franklin.
Many are excited about the opportunity for a new sport like bowling at SLA.
"I got involved 'cause it just sounds so ridiculous and fun and surprisingly quirky…it would be a shame for us to miss the opportunity to have something as strange as a bowling team, as a high school, in 2021, at Broad and Spring Garden. I am primarily motivated by how funky it is," said Mr. Symonds.
"It's nice to be able to offer a non-traditional sport to our students who may not have been able to see themselves in other athletic endeavors," Ms. Siswick said.