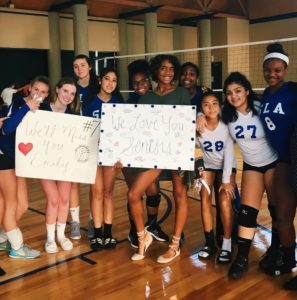 Keith Hodge
Staff Writer
The Lady Rockets wrapped up an extremely successful season this past November — and now they have to say goodbye to Captain Emily Stephens.
The team finished with a 10-2 record, finished 1st place in the Double-A Division, 2nd overall in their league, season ending with a Double-A Gold Division Championship with a seesaw win against Palumbo.
While they lost their playoff game to qualify for states,  Stephens said she was happy because of "how far the team has come and there was nothing to be disappointed about."
" I was so proud of the team and my personal goal was to win the Double-A championship and they did that, " she said. . "It was one of the closes team we've had and we didn't really let anyone fall or struggle and we lifted everyone up and I would say it was one of the best seasons I have been a part of since I've been here."
As for the 10-2 record, she had this to say: "It felt really good because I know how hard the team works and also SLA is a new school and has not been around very long and we are playing schools like Centeral who have been playing for about 200 years."
Stephens was well aware of the differences in how Central and how SLA works.
Stephens then said the best win of the season was the one where they beat Palumbo 3 to 0 in the regular season. "The Palumbo regular season win, because almost every year we always alternated them with wins, Palumbo won freshman year, we won sophomore year, they won junior and we won senior year". Stephens also added
"This was the best game of the year because everyone was playing to their best ability and really pushed themselves".
What are Stephens' plans for life after SLA?
"In college I plain to join the club or intramural team so nothing to competitive but just for fun," she said. Stephens also said to look out for future SLA volleyball bake sales later in the year to because this year's team will not stop trying to set next year's up for success.
Stephens and the rest of the team are looking to buy jackets to show that they won the Double-A Division and Championship for the 2017 season.