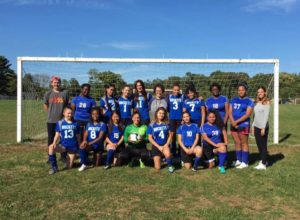 Deja Harrison
Staff Writer
Students just came back from a long and amazing summer — but not everybody came back with them. Counselor Zoe Siswick, coach of the SLA Girls Soccer Team, has recently welcomed a new guest in her home. A baby girl named Sofia. As a result, Coach Siswick has been on maternity leave since school started, but returned on October 5th. What has this meant for her team?
While Coach Siswick was on paternity leave, several volunteer coaches stepped up. Coach Mark Johnson who usually coaches boys soccer and track helped out with some practices, and ILP Coordinator Jeremy Spry covered some games as well. Jeremy is not very used to doing serious coaching for teams. He is a coach for students run but he mainly just cheers.
¨My strong suit is cheering not playing . I´m not very good at helping" says interim coach Jeremy Spry. This system was not easy for the players.
¨ I have faith in my team but there was a lot of confusion with there not being a coach,¨ said Sophomore Sharron who is a second year player on the team. She was strongly opinionated on the absence of a full time coach.   
"I just felt like she was leaving us and everything for her child and it's hard because she wasn't trying to get us a new coach at all ¨.
This is how a lot of the girls on the team feel. Girls Soccer began in August and the girls have tried to lead the team.They did not have one solid coach to step in for Coach Siswick. The Soccer team has tried their best despite their absence of a coach.
The girls have been going through what seems like a huge losing streak lately. They just couldn't seem to find their stride.   
¨Every substitute coach has a contradictory style of teaching and it negatively affects our performance. This happens when they change around our plays and positions so no one is where they should be.¨
The team has had trouble playing as a unit and their love for the game was being challenged. Junior Madison Militello believes a full time coach would have helped improve the girl's skills.
As of Wednesday October 5th Ms. Siswick is officially back at SLA. She has coached the last 3 games and the girls have come out victorious.
¨I missed my team and my students a lot, but my first priority is my daughter. ¨
Ms. Siswick has a lot on her plate this school year with counseling, coaching and parenting but the women we know and love will definitely pull through and be better than ever.
It´s October now so that means it's getting colder outside, so sadly the soccer season is coming to an end. There were a lot of strikes against the team this season but they still managed to band together and get a few wins. With all the chaos happening with the team and having a coach again, can they still be victorious in the rest of their season?
¨We were forced to do our best while she wasn't here and stick to what we do best, play soccer so hopefully we can do even better with her here¨ – Sharron