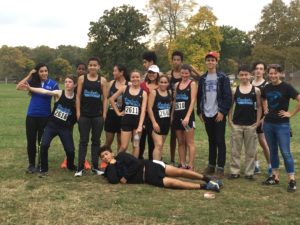 Aaron Watson-Sharer
Editor
At Science Leadership Academy, running is especially popular. With three growing programs which gain many athletes it isn't a surprise they're always competing across Philadelphia.
In the Spring, the school has Track and Field. The team is more speed and strength based than Cross Country or the Students Run Philly Style Club, which focus on longer distance running. The races are long, but still much shorter than your stark 5K in cross country.
What are some of the other differences between the groups? Senior runner Jared Bauer has been running for both Track and Cross Country since his freshman year. Senior runner Ella Petersen has been on both teams since sophomore year, when she transferred from Central High School.
The team's approach to both training and competition  is very different. In cross country, they practice for timing their 5K's and "train on half mile intervals. In track we do a lot more short work, which is a lot of modified 800's (meters) in track."  
One contains more sprints and the other is more distance. Bauer's favorite race is the 1600 meter race. The drills really do cater more to a sprint speed than cross country, even if you run the two miler like Petersen.
"I like it because the two mile is too long and eight laps gets boring running in circles and I'm still pretty good at the 16 because it's still a distance race and I can go at a nice speed for the last couple of laps." Said Bauer. Petersen disagrees as her go to is longer distance with the two mile run.
The head coach of SLA track isn't an SLA teacher. Mr. Johnson, parent of Junior Malachi Johnson,  used to coach for Temple University's track team. The team loves having a coach with such experience and expertise. "He really knows what he's doing and he's the one who really designs our workouts," Bauer explained." Petersen said "He really knows the drills that'll make you a better runner."
Another helpful addition to the team has been History Teacher Dan Symonds and Student Teacher John Taylor-Baranick, who have been helping out as informal assistant coaches. Mr. Symonds and Mr. TB  often work with distance runners opposed to Mr. Johnson who works with the sprinters.
"I really like Symonds, I get a history lesson every time we go on a long run and I really like getting to learn something." They both appear to be very talented runners, as Jared suggests Mr. TB can a mile in we'll under five minutes. Both runners agree that Mr. TB and Mr. Symonds are very encouraging and really believe in their players.
In fact, Mr. TB is a student teacher from Penn, who is preparing to become an English teacher on his own. In fact, as a student teacher, he volunteers as a coach for SLA's running teams. I was curious why he volunteers his time and he only said "it's really fun, I love running and going outside. I really like the team."
I asked Jared Bauer as a senior what his goals are for his last high school sports season.
"I just want to run a 1600 meter race in under five minutes," he said. " If I can make states that'd be really cool but it'll be harder to do. Petersen has a different goal. Hers is to "create a
better team bond."
Their first track meet was postponed and they will have their first track meet Thursday April 6th.