Jayla Wright
Staff Writer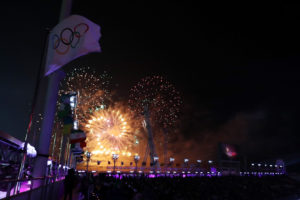 An exotic locale. Political Intrigue. North Korean Cheerleaders. The world may have been excited for this year's Olympics, but are students at SLA interested?
According to Junior Cynthia To, kids at SLA aren't that into the Olympics.
"We don't really talk as much about it. Cause in school no one really talks about it unless you actually bring it up. I think it's not really brought up. I feel like if you're into sports you're most likely to watch it or if you're competitive then you'll like to watch it. Other than that, they're not going to be as much as a watcher."
However, To did watch the Olympics herself.  Family is a big part of her enjoying the Olympics. It's a chance for her to spend time with both her Dad and Grandpa as well as a time to observe their antics.
"Olympics always pop up around Chinese New Year so it's really cool getting to watch with my family. We're really loud!"
Junior Matthew Milligan is more of a casual viewer of the Olympics.
"I don't actively go to watch it like I'm not like 'Oh it's time for my favorite event.' I usually just turn it on and if I'm just flipping through the channels and I see the Olympics and I'm just like 'Oh this looks interesting.' I'll watch it for a little bit. Or a lot of times my mom will be watching it and then I'll sit down and join her."
"It's kinda funny so we kinda want to continue watching it cause it's actually pretty interesting. My parents like watching it cause they're supporting their home country cause they always support Vietnam for Summer Olympics. My grandpa always goes for his country China, so it's really cool when you go home. They're like 'Go USA!' 'No!' 'Go China!' it's really cool.
Junior Meymey Seng also connected her experience to her family, "The Winter Olympics is something I always look forward to because I just remember enjoying it with my family."
There was one sport both Seng and To found odd enough to comment on.
It's like a shuffleboard thing but they're mopping the floors," To said laughing.
"So my parents and my sister are like making little memes and making little jokes saying like, 'They must be really really good housemaids.'"
To was talking about curling, a sport where players on ice slide stones onto a target. Seng found this sport funny as well but she also saw it as an accomplishment for the US.
"I just saw a lot of memes about it and I heard that the US actually won gold for that. So I was impressed because even though many people saw it as a silly thing we actually did really well in it."
Milligan found that the Olympics being held in the winter caused the low viewing among SLA students.
"I don't feel super strongly about the Olympics and I also think it's the Winter Olympics and people don't always care about that as much cause it's not as exciting, for some reason."
To found that the Summer Olympics grabbed her attention more.
"I'm interested in the summer sports. Summer sports are more interesting to connect to and it's more fun to watch. There's more variety of sports there's swimming, there are water sports, dry sports. But for winter it's all ice so there's not as fun with less diversity.
"And I feel like the summer sports have more countries than the winter sports everyone can connect to that one more."