Kai Bradley-Gutierrez de Teran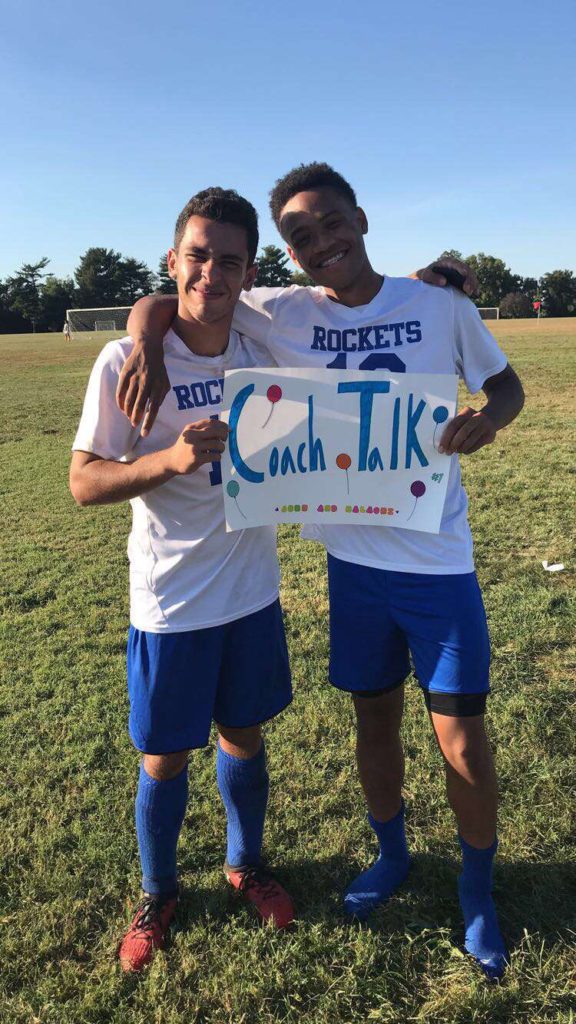 Staff Writer
If you follow Seniors Malachi Johnson or Jorin Gerveni on Snapchat, then you surely know what Coach Talk is. If you don't, let me explain.
Coach Talk is something that Malachi and Jorin post  when they are together and supposedly talking about the soccer team, which they co-captained this past year. However, it has become more than that. It has become a symbol of their friendship and unity not just as the leaders of the soccer team but as individuals.
Coach Talk originated from Captain Talk which was basically the same thing except that Malachi and Jorin did not have the same responsibility that came with the titles Coach. However at the beginning of the 2017 Fall season there was no coach and it became a deal with Coach Johnson and SLA Principal Mr. Lehman that Jorin and Malachi would take on the role of the coaches for the soccer team until one was found, a job that Malachi and Jorin would take on and create Coach Talk.
While Coach Talk originated around soccer it has extended to whenever Jorin and Malachi, the coaches/captains, are together, as Malachi said "It's [Coach Talk] just become whenever me and and him [Jorin] are together, which is like all the time."
Being the captains
Jorin and Malachi have been co-captains of the soccer team for the past two years, the 2016 and 2017 seasons. When you're out on the field with them, as I have been, or just watching them play and lead the SLA Boys Varsity Soccer team something glows up inside of them and their attitude spreads. Malachi said "Being the captain 2 years in a row, it was definitely like a high school dream and something that you tell your kids."
Jorin added that "It is a privilege," to be the captain of soccer team and represent SLA by playing his favorite sport.
Even though they love being the captains they both said how it was hard at times. They said how it's tough to make decisions that are going to affect the whole team because not everyone can be satisfied and that they don't always have the answers.
When I asked what they thought was the best tip for captains of sport teams they both said that having positivity and patience were key. Jorin went on to add that it is the job of the captain to represent their team and/or school as best as possible. Malachi also said that being the captain you are held at a higher standard and have to be your best self at all times because you are a role model whether one realizes it or not.
Jorin also said that positivity was the best for a good and successful soccer player and team to which Malachi added on that confidence in yourself and the team was very important but "Yeah, we want to win games but never underestimate any type of opponent or task."
Friendship and Soccer (Futbol)
One can naturally assume by seeing Malachi and Jorin on the soccer field that they share a special friendship, which is very true. They stated that their friendship formed during their freshman year on the soccer team, something that Jorin stated was special about being part of the soccer team. Malachi said they were friends "But no where near as close as we are now, until we were both captains and had to talk and talk, did we truly get close."
Jorin said how he was grateful for soccer because of the ways it has positively impacted his life, helping him relieve stress, gain confidence and form friendships. Jorin said,"Every problem goes away when I have a ball at my feet."
When I asked why they loved soccer so much they both brought up the fact that they grew up and have spent a lot of time in other countries, Malachi in Nigeria and Jorin in Albania, and are part of very different cultures than that of the typical American.
Malachi went on to speak in depth about the effect of soccer. "The feeling you get when you score a goal is the most uplifting feeling you'll ever feel in any sport because it's so difficult and it's the reason why Americans aren't interested in 1-0 games, they don't understand the importance of it."
Jorin and Malachi both said how being a member of the soccer community is truly a wonderful experience and how it can connect you to complete strangers all over the world.
"It's like a different type of humans, the people who love soccer," Malachi said.