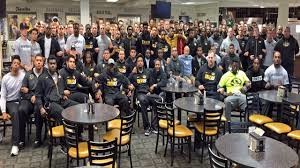 Micah Henry
Tim Wolfe has messed up. Anytime in sports where there is an occurrence in which there is a problem in the administration or higher authority of a major sports organizations that negatively affects players, they tend to grow angry. This has been seen numerous times in sports history. For example, there was the MLB player strike in 1994, when in short, owners desired a salary caps for players. A salary cap is an agreement that limits the amount of money a team can spend on a player's salary. It's evident why owners desired this and players were firmly against it. Owners are cheap and players are greedy! But no in all seriousness, owners believed it was only fair to have a limit on what a team can spend on a player so a team doesn't sign a $200 billion contract for some superstar coming from college. That, however, is a very melodramatic example, but one sees the point. In the end of this strike, the conclusion was made to have no cap, so the players got what they wanted, but they did not win, neither did the owners. For teams lost $100 of millions in revenue and players lost millions of dollars in salary. There were no games played, so no one bought tickets or food or drinks or anything to have anything at all to do with a MLB team, meaning no earnings. Players did not play games, meaning no earnings. No one won, but a salary cap was avoided. As this example shows, results of strikes vary largely.
This developing story in Missouri is troubling. For as everyone knows, racism is a huge part of American culture, unfortunately, and always has been and always will be. Tim Wolfe had the privilege of being the president of a major university. Yet has messed his life up over being involved in situations of racism. On campus, Payton Head, the president of the Missouri Students Association, about a group of students continually calling him the N-word, Wolfe was inactive regarding the situation. During a separate occurrence, a man used a racial slur after interrupting a rehearsal by the Legion of Black Collegians during an event. Another incident was when a student, unknown, used feces to draw a swastika on a residence hall wall. All this incidents were not acted upon by Wolfe or other administrative officials when it clearly should have been. As the president of a university, it is his job to handle all situations such as discrimination, injustices, racism, etc and Wolfe did not do his job. When you do not do your job, sometimes you get fired. However, Wolfe made the decision to resign first.
In all fairness, this could be a simple case of unknowingness and not prioritizing the right things. Being a president of a major university is a very stressful job that many people will never understand. Being in charge of everything and anything to do with the university then hearing about a racism incident. His thoughts were most likely that he'll get to it later and that it wasn't as important as other obligations he had to attend to. Regardless, he has to make time, for racism is ever prevalent these days and people of all races care deeply for it. Tim Wolfe doesn't deserve his job anymore and he understands that which was why he resigned.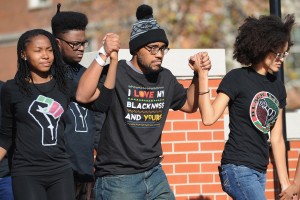 Tim Wolfe and these incidents of racism happen often. Racism is everywhere and people need to be aware that it is very real and very problematic. The great things that come out of situations like these are seeing the community coming together. Blacks, whites, hispanics, asians, all races coming together to show their detestment towards racism and people who support it directly, or indirectly like Tim Wolfe did. These situations anger people yet bring out the good in others. In conclusion, Missouri needs a new president who will pay attention to everything that happens on campus, especially social problems such as racism. The University of Missouri is headed in a positive direction now.