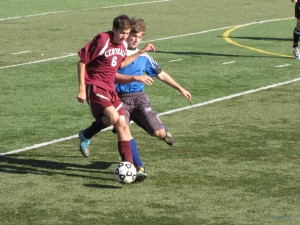 By Heather Campbell
Staff Writer
The boys soccer season comes to an end after a devastating loss in the playoffs.
Losing 9-0 against Central High School in the playoff game on October 17th dashed the previous record of 6-3, that tied them for second place in the division.
"We played with a lot of heart, but they outplayed us." commented Senior Alex Johnson, "They were just better."
After a strong start early in the season, the loss in the playoffs was disappointing, but expected. "Even though we lost, we had a good season." mentioned Senior Mohamed Marzouk.
The improvement in the team is evident in the way they have been communicating and passing to each other on the field. "Our record doesn't really show it, but we have improved a lot." Senior Captain Dan Wirt maintained.