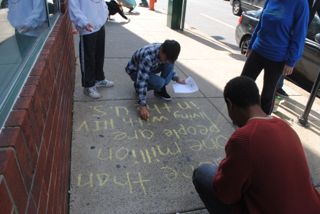 By Leah Kelly and Annisa Ahmed
Staff Writers
What happens when your favorite club is canceled?
For the last several years at SLA, the community service program called buildOn was where students participated in volunteer service and global education.
However, due to a lack of funding, buildOn left SLA at the end of last year.
"buildOn is a charity that gets a lot of their money through donors," Senior Sam Lovett-Perkins explained. "And, [the donors] can request that the money goes to a specific place."
buildOn's program has shifted to include schools in most need of additional programs. Rather than small programs in many schools, they are running larger programs in a few schools.
This left volunteers like Lovett-Perkins without an organization to call home.
Instead of giving up, he took it upon himself to start his own community service club for students at SLA. The project has also become his senior Capstone project.
"I thought that [the buildOn program leaving] left a gap of community oriented people that can all do community service work," Lovett-Perkins said. "I wanted to help keep that going at SLA."
SLA's Community Involvement Club is not a solo effort. Fellow classmates have pitched in to help, including Seniors Jenn Wright, Bernicia Guercio, Shamarlon Yates and Amanda Millatt.
All of the organizers are seniors, but they hope to involve underclassmen in leadership so that the club will continue after they graduate.
Senior Amanda Millatt, a fellow community service promoter, remembers a time in her freshman year that got her to continue offer her help over the years.
"I went to my first service project with buildOn and instantly felt like I was part of the family," she said. "Not only were people amiable, but just outgoing and willing to get to know even the shy kids even to freshmen, like me."
Community service has become a norm at SLA that has made many students here feel enthusiastic about helping others, and Lovett-Perkins hopes that it will continue.
Younger students are already jumping onto the bandwagon. Freshman Naomi Fecher-Davis said, "All of my friends joined, but I really enjoy it now– helping people makes me feel good."
"I don't want this to just go away after I leave," he said. "I want it to stay and grow and be able to come back in five years."
The meetings are held on Thursday during both lunch bands: X-Band in Ms. Echol's room and Y-Band in Señorita Manuel's.
Upcoming events include the AIDS Walk in the fall and the Broad Street Run next spring. There are going to be smaller gatherings, including bake sales and can drives that will be determined at later dates. The club also arranges for students to volunteer at MANNA, the program which delivers meals to homebound patients.
For Lovett-Perkins, this project reflects a lifetime commitment in service. "It is part of who I am now and I really take passion in that."