By Sara Nesbitt
Staff Writer
SLA, being the school for creators and thinkers, sometimes the building doesn't fully meet the requirements as well as the students and teachers do.Temperature continues to be a problem in the classrooms at SLA. Over the past few years, there have been several mishaps–from heaters malfunctioning to air conditioning always running– and sometimes both happening in the same room.
The problems can be persistent. "The heater kept breaking, and the guy had to come a third time before he fixed it and it's working now," History and Spanish Teacher Juan Sanchez told SLAMedia.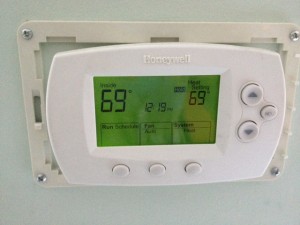 In English Teacher Matt Kay's room, the temperature has reached a low of 53 degrees, and English Teacher Meenoo Rami's room has reached the low 60's.
The fluctuating temperatures cause distraction to teaching and the learning of students.
"The past week was a challenge for the learning community in room 311," Ms. Rami noted, "It definitely throws off the rhythm of the class."
Both teachers moved their classes into the library, having to improvise their lessons. Students shared aggravation.
Junior Rose Knibbe commented, "Because Ms. Rami's heating was messed up, I had to find somewhere else to get my work done."
The move to the library has a ripple effect — the students who have clear the library due to the classes felt annoyed, as well.
"The fact that the library is supposed to be a free, open place and we get kicked out is really frustrating," Junior Dalena Bui said.
Not all teachers think cold rooms are a problem, however. On the contrary, Science Teacher Matthew VanKouwenberg has a different idea about temperature.
Mr. VK purposely keeps his classroom at frosty temperatures. Junior Matthew Marshall said of room 304 that Mr. VK "keeps his room colder because people retain knowledge better."
Is there a solution to this constant temperature problem? Most of the classrooms were fixed as of now, but keep a sweatshirt handy, because that might change.