By Annisa Ahmed

Staff Writer
It's no secret that SLA has an athletic staff–five of them have completed marathons. Several members of the SLA faculty have been adding an extra load to their workout regimens recently.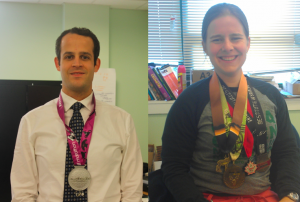 Many of them are preparing for events place this fall — marathons, triathlons, and other races.
Math Teacher Caitlin Thompson, for one, has been doing just that. Already a competitive cyclist, she is training for an Ironman next August, her second. The long-distance triathlon involves swimming, cycling and running, in that order and must be completed before the seventeen hour cut off.
When asked about how rigorous her current session have become, she replied saying there was a definite difference between last year and the upcoming one. "This is the most focused training I have ever done, in terms of long term duration," she said.
Not only does has she noticed a change in her overall health because of her recent endeavors but, all of this has been quite the rush for her.
"I do these activities — running, biking, etc. — because I enjoy the individual challenge of reaching different distances."
Math Teacher Brad Latimer has also been turning things up a notch with his running for similar reasons–he ran a half marathon this November for the Disney Family Half Marathon Event.
"Just last year kind, of on a whim, I came from school one day and my partner was like, 'I signed us up for a half marathon.' I was like, 'what?' And, she was like 'I already paid for it for we're doing it.' So from there, there was no turning back."
Contrary to popular belief, he has never once run a marathon and frankly, he was quite unnerved. It was the first competitive thing he has done with this sport and it really made him face his fears.
Now he runs everywhere.
"I go running with StudentsRun. I went for a run with Ms. Garvey the other day. I plan on running with Ms. Echols, Ms. Dunda., Ms. Martin and Mr. Bey."
As teachers, being active has also definitely set their lives in tune. Many of them squeeze in their workouts before, during, or after school.
This can be a challenge at times. "It takes an hour and a half to go on a ten mile run and I very rarely just have a free hour and a half to use," Mr Latimer acknowledged. "That is the biggest drawback to it for me, personally."
However, he still thinks the payoff is worth the effort. "I am at the point where I do feel very, very happy I'm doing it. I love it," he said. "It makes me feel a lot better, physically and mentally. It's totally worth it."
Contact Information: aahmed2@scienceleadership.org