5 NFL Trades That Should Happen- Sports Talk with the Straight Shuter
by Jesse Shuter
Staff Writer
NFL  stands for National Football League. It is also known as the No Fun League, No Fair League, and many other names. My personal favorite is Not For Long. This is because the NFL is ever changing and always exciting. Trades are happening in football much more lately, and I love it. Change is fun, sometimes it stinks at first, but it always ends up making the game more exciting.
Now I want to start by saying that there is almost no chance of these trades happening. I am not delusional, I just think that they should happen, and would be fun to see.
Trade #1: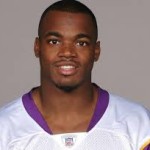 The Minnesota Vikings: Adrian Peterson, Running Back and a 2014 4th Round Draft Pick
For
The New Orleans Saints: Mark Ingram, Running Back, Akiem Hicks, Defensive End, and a 2014 2nd Round Draft Pick
Woah, did I really just trade star and future hall of famer Adrian Peterson from his beloved Vikings. Yes…..I did. Peterson as you may have noticed just turned 29 years old and is exiting his prime. Now obviously he will still be a star, and it is great for contending teams to have a star workhorse running back. The Minnesota Vikings are not a contending team, and even if Peterson has three or four more great years, there is no way that the Vikings can win the Super Bowl in that time. They need to rebuild and who better to rebuild with than a 24 year old proven running back in Mark Ingram, who can replace the huge void left by Peterson, and 24 year old defensive end Akiem Hicks who can replace the void left by unrestricted free agent, now Chicago Bear, Jared Allen. The 2nd round pick helps a lot too. Meanwhile, the Saints who are on the cusp of a Championship, want to win now, while star quarterback Drew Brees is still throwing as good as anyone. Peterson is the difference between them and the championship. If this trade happened, not only could the Saints challenge the ex-champion Seattle Seahawks, but I could easily argue that they are better. It is also a relatively low asking price considering what you are getting Peterson. Not to mention Peterson gets to contend for the championship he deserves.
Trade #2: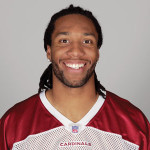 The Arizona Cardinals: Larry Fitzgerald
for
The Oakland Raiders: Denarious Moore and a 2014 2nd Round Pick
Hey, another franchise star says goodbye, in the world of the Straight Shuter. Larry Fitzgerald is declining and who better to take on a declining receiver that costs a lot of money than the Oakland Raiders. The Raiders are trying to contend once again, but that isn't going to happen if Matt Schaub has no one to throw the ball to. The Raiders Receivers quickly become 1: Fitzgerald, 2: James Jones, 3: Rod Streater. That looks pretty awesome to me. All they have to do is part with Moore and a pick. Meanwhile the Cardinals, get rid of a big contract, and get Moore to replace Andre Roberts who they lost in free agency. They can then use their first round pick on a receiver since the class is so deep, and all of a sudden they are fine, and they have tons of extra cash lying around.
Trade #3: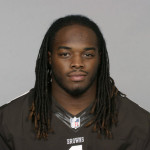 The New England Patriots: Stevan Ridley, Running Back
for
The Indianapolis Colts: Trent Richardson, Running Back
Both of these gentlemen require a change of scenery. Ridley continues to fumble to football and is quickly becoming a nuisance to Bill Belichick. He has talent, he just needs a new place where he can be utilized. The Colts meanwhile had traded for Richardson last year with their first round pick after his unbelievable rookie season. On the Colts he was an absolute bust. Belichick would love the opportunity to work with Richardson and fix him, the only problem with this trade is that the Colts may not be ready to give up on Trent.
Trade #4: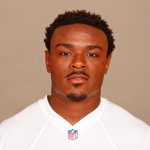 The Dallas Cowboys: Brandon Carr, Cornerback
for
The Houston Texans: NFL 3rd Round Pick, and Ricky Sapp, Linebacker
Ever since the Cowboys signed Brandon Carr, he went from elite to okay. Last time he was elite was on the Kansas City Chiefs under head coach Romeo Crennel, now Crennel is the defensive coordinator for the Texans. Carr could then re-establish himself as an elite corner. The Cowboys can use the extra pick to rebuild their flailing defense. They could add a replacement corner in the first or even the second round with how deep this draft is. Ricky Sapp, in my opinion is a very underrated player especially considering how few people actually even know who he is. I think given the right opportunity he can prove himself to be a solid starter, and even if he can't the cowboys can use him when Sean Lee inevitably gets hurt.
Trade # 5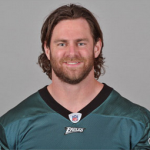 The Philadelphia Eagles: Evan Mathis, Offensive Guard and Bryce Brown, Running Back
for
The Buffalo Bills: 2014 First Round Pick (#9 Overall)
Now to be clear, I don't want to see Mathis go, but if the Eagles are truly ready to let him leave, which again they shouldn't, this is the way to do it. The Eagles can then draft Sammy Watkins or Mike Evans to replace the departure of DeSean Jackson. Meanwhile the Bills are really in need of a guard ever since they lost Andy Levitre the also have quite a few injury prone running backs (C.J. Spiller and Fred Jackson), and especially with Fred Jackson nearing the end of his career it would be nice to have a reliable talented backup.