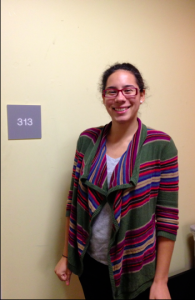 By Ryan Harris
Staff Writer
This school year marked the beginning of a new adventure for freshmen and one faculty member at SLA: History Teacher Pearl Jonas.
Before coming to SLA, Jonas had her start as a teaching assistant at Northeast High School.
"It was actually my student-teaching year," she said, "but I count it as my first year, because it was so hard."
After her student-assistant teaching year, she worked at a high school located in Ecuador for 2 years. There she was a teacher of History, English, and Spirituality.
Jonas was comfortable, having come from a Nicaraguan/Jewish background. "I was there by myself; but the school was so welcoming, from the students and the teachers."
The school was not always easy to work at, however.
"One challenge was the cultural differences in the classroom and managing that the school is very, very different."
One difference was the curriculum. It was not at all like SLA's project-based structure.
"It was test-based — so much so that there was a certain schedule to your class and you had to stick to that," she said."
Even though the school in Ecuador was traditional, it still helped her learn to be a good teacher at SLA.
"My way of teaching and how I appreciate education is more thorough, giving students the ability to try different ways of telling what they learned," she said.
It was soon after her return from teaching abroad that Ms. Jonas would come in contact with members of SLA's community before even working at SLA.
During the summer of 2010, Jonas met SLA English teacher Matt Kay while they were both working at the Awbury Arboretum, a botanical garden located in the neighborhood of Germantown.
"We were both teachers, but it was more experiential learning," Jonas said. "We would take elementary students on tours of the Awbury Arboretum; talking about trees and insects and lots of other 'science-y' stuff."
While attending meetings with the organization know as the Teacher Action Group/Philadelphia (TAG Philly), Jonas met another SLA teacher, English Teacher Larissa Pahomov.
It was Kay that told Jonas about an opening to teach history at SLA — filling the position vacated by Ms. Laufenberg.
For her first year, Jonas is teaching 9th graders African American History, 11th graders American History and also acts a monitor for the new Spanish 3/5 Rosetta Stone class.
Becoming a new member of SLA's community has been almost seamless for Jonas, thanks to a welcoming group of students, teachers, and faculty.
"A lot of students and teachers alike have reached out to make sure I'm doing OK with transitioning here," she said. "Making me feel like they really care about me as I start here at SLA."
"It's nice to have another person who staff who's had experience outside of the classroom and lived all over the world." said Pahomov. "More than just a classroom teacher."
Jonas has always been an admirer of history, but not just old facts and figures. "I always loved finding connections for why the present is the way it is today, because of the past." she stated.
When asked about her future at SLA, Jonas had this to say: "I want to learn to be the best teacher that I can be, for students. So definitely just growing as a person, developing relationships with the teachers, the students, and the community…contributing to the community in any way I can."