Broad Street Run Play-by-Play from SLA Media on Vimeo.
By DeShawn McLeod
Staff Writer
Broad Street on May 5, 2013 was surreal.
We had to be at school by 6:30 AM if we wanted to get a bus ride to the starting line. I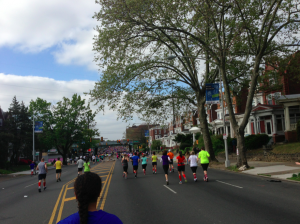 accidentally woke up at 5:57 AM. Wonderful morning, right?
Once everything was situated and the bus nearly came, I realized I didn't have my knee brace. Wonderful morning example #2.
My corral started at 8:50 and we were off! I remember seeing City Hall from Broad and Olney and I imagined how long it
would take to get there.
Me and my running buddy Dejah Harley agreed to keep the same pace. We got to Temple Hospital and soon we reached Broad and Cecile B. Moore. There was a parade of bystanders, Temple Owls, cheerleaders, bandmates, and football players cheering us on. That was between miles 3 and 4.
Once we got to mile 5, there were hundreds of people out supporting us. The water-givers were cheering, the spectators were cheering, and even the runners themselves were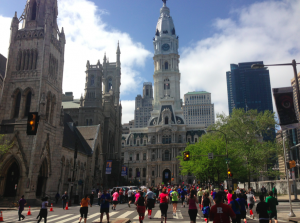 cheering from all the hype.
And then we got to City Hall. I couldn't believe it.
Once we were on our way to South Philly, things started to look up hill. (Well, downhill, because the whole course was literally all downhill.) My legs weren't hurting and my knee was doing just fine.
But then we hit mile 8, and that's when the soreness started to kick in – everywhere. My partner and I kept the same pace and felt the same pain.
To get me through, I remembered practice. We had two miles left and I just reminisced about running to Lloyd hall and back during after-school runs at SLA.
Mile 9! Once I saw that we had half a mile left, I pictured myself running from Lloyd Hall to the Viking Statue. I was thinking in my head… the finish line is not far away.
When the Navy Yard sign confronted us, we knew we had just a quarter mile before we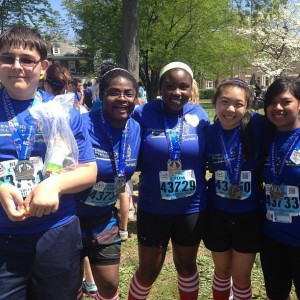 were able to stop. Dejah grabbed my hand and we jogged the last bit in stride with each other. Then we saw our coach, Internship Coordinator Jeremy Spry. He had already finished, so he jumped the fence and grabbed my friend's other hand and picked up the pace and we crossed the finish line hand-in-hand.
"Was that the hardest thing you ever had to do?" Spry said.
Breathless we responded, "Yes."
I want to give a shout-out my running partner and friend, Dejah Harley for keeping the pace and going farther than ever before.