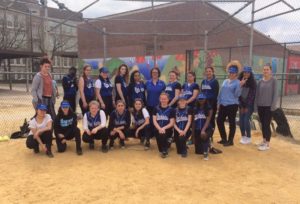 This season brought new challenges for the SLA girls softball team, which has been in the public league's Platinum division for some time..
For 2016 SLA Softball had a 6-4 record, which is impressive for that level of competition in their league. The Platinum division consists of larger high schools like Central, Olney Charter, and Northeast A school with ⅙ of their student body that competes in games with large schools is nothing short of challenging.
However, SLA softball has also had an advantage:  They combine teams with SLA Beeber, our second campus, which gives them  more talent and numbers to work with.
Players from SLA-Center City very appreciative of SLA Beeber presence. Senior Catcher Dillon described her opinion as "happy because some of our best players and opinions about the team have come from Beeber."
With their winning record, the rockets again  clinched a spot in the  playoffs.  This year they faced off against CAPA, who combine with Academy at Palumbo. They played a very competitive game, , but they fell short in the late innings and lost by one run.
Despite the unfolding of their playoff, the Rockets had plenty of satisfying moments. Pitcher and Sophomore Tia Roberts was very happy when they had defensive 1-2-3 innings off great fielding. Other good moments were when they could engineer their own comebacks to win close games.
There were some personal shortcomings, however. Senior Dillon Hershey believes what held the team was "having trouble being consistent and confident in our skills, which can make the game hard to play and hard to overcome tough losses." She believed that if they could put it all together that they could improve.
Junior Ari Haven believes that this team could have been better with more commitment from the players. "I wish our team committed to the whole season. I also wish we could all commit to coming to practices and getting better."
Haven also  thanks her team for helping her mature. "My teammates have taught me everything I know."
Roberts feels the same way about how the team has affected her. "I have matured as a teammate and improved my skills as a player. I am very proud of how much I have grown since last year and the year before that… they always will have my back no matter what."
In softball, teamwork is key and this team played hard every game and truly played for the person to their right. This team never made it about anybody but the team as a whole, they showed they could push through any uphill battle, despite regular struggles. Next season, the softball Rockets want to come out with some fire. The softball Rockets always have played hard and they intend to work hard to make some real noise in 2017.