Rasa Watson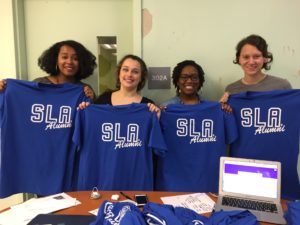 Staff Writer
On Friday, December 22nd, SLA hosted its annual Alumni Homecoming. The event, which is always scheduled on the last day before winter break, is where SLA's graduates return to talk about their experiences in college and outside of SLA with current seniors and juniors.
There were multiple panels hosted by teachers. Each panel had a different theme that is meant to help answer questions about college, life out of SLA, both social and school. As well as anything else the juniors and seniors have questions about.
Alumni Homecoming was held throughout the day with panels beginning in the morning.  In the afternoon, alumni socialized with their freshman mentees and past teachers and in the evening, alumni met at a nearby bar or restaurant where they could mingle with people who couldn't make the homecoming.
Despite the fact that when the event was approaching, some students weren't aware that the event was happening so soon. However, even though the event was not being effectively promoted, many students understand its importance.
"I think it's a good thing. I think that we can benefit from [alumni homecoming] by learning from [the alumni's] experiences. And it's always nice to see the people you used to know. You can see how they have grown,"  Senior Deja Harrison stated.
Harrison additionally explained  how the experiences shared in these panels will be helpful because she will know not to make similar mistakes as the panelists, once she leaves SLA.
Harrison and her fellow students aren't the only ones who are excited about the homecoming. SLA Alum Maxime Damis, who is also the president of the newly-formed Alumni Association, is busy planning the event.
"The best part of this event, in my opinion, is that we can take the experiences we learned from most (good and bad) and use them as guidance for the students who may encounter the same situation later," Damis explained.
"I took part in the panel in engineering school and enjoyed giving feedback on what worked for me and what didn't during the transition from SLA to Drexel, especially in regards to moving from a project-based high school to a test-based college."
This theme of feedback that Damis talks about is something that helped the spirit committee create a more effective panel than last year.
Last year there were over 20 panels in attempt to cover everything about life after SLA. However, having so many panels forced each panel to rush through their content. This year, there was 16 panels to solve that problem.
"This time around, we were able to use this feedback to better plan for fewer, more in depth panels." Damis says.
There was hope for a successful Alumni homecoming that gave juniors and seniors time to learn everything they had questions about. As well as alumni hoping to help answer all questions and concerns.
The event was a success, and students had some beneficial experiences, both social and helpful.
"The senioris learned about the alumni from previus years and the ones from the last few years. If you were accepted at a school and are committed to it there is probably some else who goes or went there to talk to," said Senior Tamir Harper.
"We wanted to know if sla prepares us. Does SLA prepare us? And we have those people to talk to."