Arielle Moore
Staff Writer
The leaves are changing, the days are shorter, and candy corns are now their own food group: Fall is here! Go take a nice stroll outside and take it all in…but, before you do that, you're going to need to figure out what to wear. A t-shirt and shorts? No; It's not summer camp anymore! It's a new season which means on top of unpacking every jack-o-lantern you've had stuffed in your garage for the past nine months, you've gotta update your wardrobe.
Now let's start with the basics: colors, patterns, and textures. In autumn, it's quite common to see pieces that capture the colors and feelings of the season. Fall typically has a warm color palette, made up of mostly oranges, reds, olives, creams, browns, and mustards. Bright colors like cobalt and deep purple are also incorporated.
Don't be afraid to experiment. Since these colors are mainly neutrals and can be effortlessly paired with each other it's not uncommon to pull a cute fall-appropriate right out of a hat. One thing to keep in mind though, is to pair a bright color with a neutral to balance out its intensity. Remember when summer was the lovely time when you could wear a tie-dye shirt with lime green shorts and silver flip flops from that little shack on the boardwalk? It's time to put those days behind you, because now it's imperative to be mindful of the hues you pair together.

Of course black and white are given, but this isn't Cruella DeVil's closet. Let's dig a little deeper. Some neutrals that have really come onto the scene this year are nude, blush, gray, taupe, and khaki. These are all such simple colors but can be paired either together, or with brighter tones in order to create a really fashionable statement.
Layering is definitely a huge trend right now. Sweaters, cardigans, jackets and scarves are all included to create an       effortless, yet comfy look.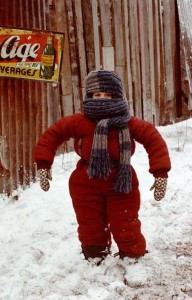 Now, with all those pieced together it may so  I'm trying to get you to look  like this:
But I assure you, layering can be done chicly and successfully. You can even mix prints and fabrics to concoct a stunning fall ensemble. One piece that's really great to layer with is a nice jacket. Jackets that are really great for this time of year are bombers, denim jackets, leather, varsity, and everyone's personal favorite: hoodies. I mean seriously, it's like a portable sleeping bag with pockets. These are all great items to keep in your wardrobe to look great and keep warm, but also add a special flair to a certain outfit.
Don't forget to accessorize! Of course supply the necessities such as gloves and scarves on those blistery autumn days, but you could also jazz it up with a small piece from your wardrobe, such as a beanie or cute pair of socks.
You can pull inspiration from just about anywhere! Here I have some examples of different fall looks that you can try. They mainly stick to a neutral palette, but feel free to incorporate whatever hues you desire. Remember, fashion is all about self-expression!