By Sam Lovett-Perkins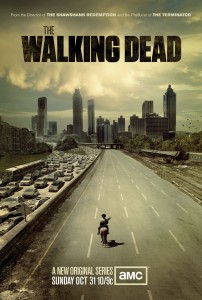 Staff Writer

Every Sunday night, the zombie within SLA comes alive. AMC's hit television show The Walking Dead has formed a subculture that revolves around decaying, brain-hungry fiends.
Students and teachers alike are fans of the show, which focuses on a small group of survivors in a zombie infested, post-apocalyptic world. As the characters struggle to survive, the viewer enjoys the terror in watching zombie devouring someone's face.
Many appreciate the quality of the cinematography, acting, and writing.
"Half the time I forget I'm watching TV because it's so real," said Math Teacher Brad Latimer. "From a purely cinematography and production value standpoint, it's on a different level."
Of course, people also just love being scared. The horror in the show is what attracts students, Mr Latimer explained. "The root of the horror genre plays on a very natural human emotion, which is fear."
The Walking Dead is not SLA's only zombie obsession.
"I remember I had dreams about zombies," said Freshman Jackie Middleswarth, " but I'm not really a gore person, I just like zombies."
Students of SLA often indulge in fear and fright. After this year's senior breakfast, 20 seniors found themselves together at a showing of Sinister at the Rave Theater in University City. Senior Cyndi Lynn Sheridan also recently organized a group of seniors to attend the Eastern State Penitentiary's Terror Behind the Walls.
"Teenagers really like that terror," Sheridan said. "It's a good way to bring everyone together."
However, it's more than just the terror that attracts viewers.
"I like the different plays on zombies," said Mr. Latimer, noting the difference between traditional "stumbling zombies versus 28 Days Later's speed zombies."
However, he criticized the industry as well, saying that there has been a decline because "movie studios turn out movies to make money" specifically mentioning  shock-torture movies such as the Saw series.
Not everybody feels great about scary movies. Junior Dejah Harley says she likes the horror genre, but finds movies based off of true stories especially terrifying. "I don't like them because it makes you think it could happen to you."
Not all students find the same thrill in the horror genre as Mr. Latimer and Sheridan.  "It makes me scared, mostly the violent parts," said Freshman Zoe Schwingel-Sauer. "Stuff Creeps me out".
As SLA pulls away from Halloween, students still looking to satisfy their hunger for new shows can look out for: The Walking Dead on AMC at 9 (EST) and American Horror Story on FX at 10 (EST). For movies, Mr. Latimer highly suggests The Descent, also keep an eye open for The Collection and Silent Night coming  out on November 30th and The Texas Chainsaw Massacre 3D on January 3rd.