By Annisa Ahmed
Staff Writer
This year, the zombies are taking over.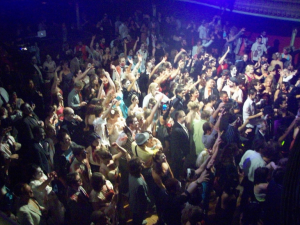 SLA is home to many fans of the popular drama series The Walking Dead. Many students also used the half day on Thursday, Feb. 14th to catch a showing of a more humorous take on those soulless corpses, the newly released film Warm Bodies.
Senior Marley Utzig wants to keep the dead times coming. Her Capstone project is hosting a zombie prom for all the students of School District who are eighteen years of age or younger.
The plan has been in the works since sophomore year.
"There is an adult zombie prom and I have never been able to go to it," said Utzig. "And since I am going to college in a different state next year, I probably will never be allowed to go to."
She simply wishes that there were more opportunities for minors because the nightlife of city as a whole is geared to adults. Only those old enough to drive without a permit or those who can consume alcohol with any repercussions are allowed into most events in Philadelphia.
"There is only a few nightclubs that open to teens normally and even then, it's very rare," mentioned Utzig. "It's a big market that is not being tapped in Philly. "
By holding this event, students from Central, Roman Catholic, CAPA and beyond will have the chance to experience a truly gutsy and gruesome event in harmony.
Junior Isabela Supovitz-Aznar attended a zombie affair once a year before she arrived at SLA. It was a concert of sorts and she and her friends has a blast, covered in splotchy black paint and all.
"It was really odd, but fun," Supovitz-Aznar said.
Mingling in bright lights with music pounding all around, she said, was a theme she wished there was more of, especially if it came in the form of a prom.
Utzig is working to secure a venue, and says it depends on the pricing. However, she says that the cost will probably not exceed twenty dollars. The date is set for sometime in May and she plans to have special features available like face painting booths for anyone who is unable to do their own makeup.
As for a costume, Utzig has a simple solution.
"You just have to put on your prettiest dress and throw blood on it," she said.
After all, you can never be wrong with faux blood.
To contact the author: aahmed2@scienceleadership.org