Mekhi Granby
Staff Writer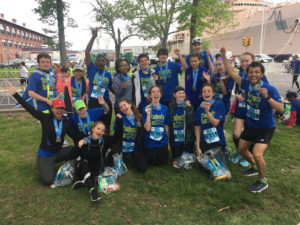 On May 7, 2017 the people of Philadelphia came together for a 10 mile run along the very busy Broad Street. It started from Central High School all the way down to the Navy Yard.
As many of SLA's runners participated in this run, SLA Media thought it would be interesting to see what they thought about it.
Surprisingly, the majority of students who ran didn't have many bad things to say about it. When asked what the worst part of the race was Junior Gavin Lane expressed "The worst part, well, there wasn't really that much that happened that I could say was "bad" during the run. Waiting for the bus after the run was a pain though. We had to wait a while."
There were also some really uplifting and joyful moments according to Sophomore Cynthia To as she said "The best parts of the race for me was seeing my family cheer me on, the younger kids giving me high-fives, and sprinting to the finish line."
This year was staff member Jeremy Spry's 9th time taking on the Broad Street Run. "Running Broad Street is like a 10-mile block party,"  said Spry.
About 40,000 total runners participated in the 2017 Broad Street Run including 16 current SLA Center City students, about 8 alumni, and a few staff members.
Junior Kaamil Jones ended up running into former Governor of Pennsylvania Ed Rendell during the race and managed to take a picture with him. As much as he wanted to stick around and chat with him, Kaamil wanted to beat his time so he continued running right after the picture was taken.
Overall, the Blue Cross Broad Street Run was a very successful this year as many people of the SLA community enjoyed it and plan to run again next year.