Ella Petersen
Staff Writer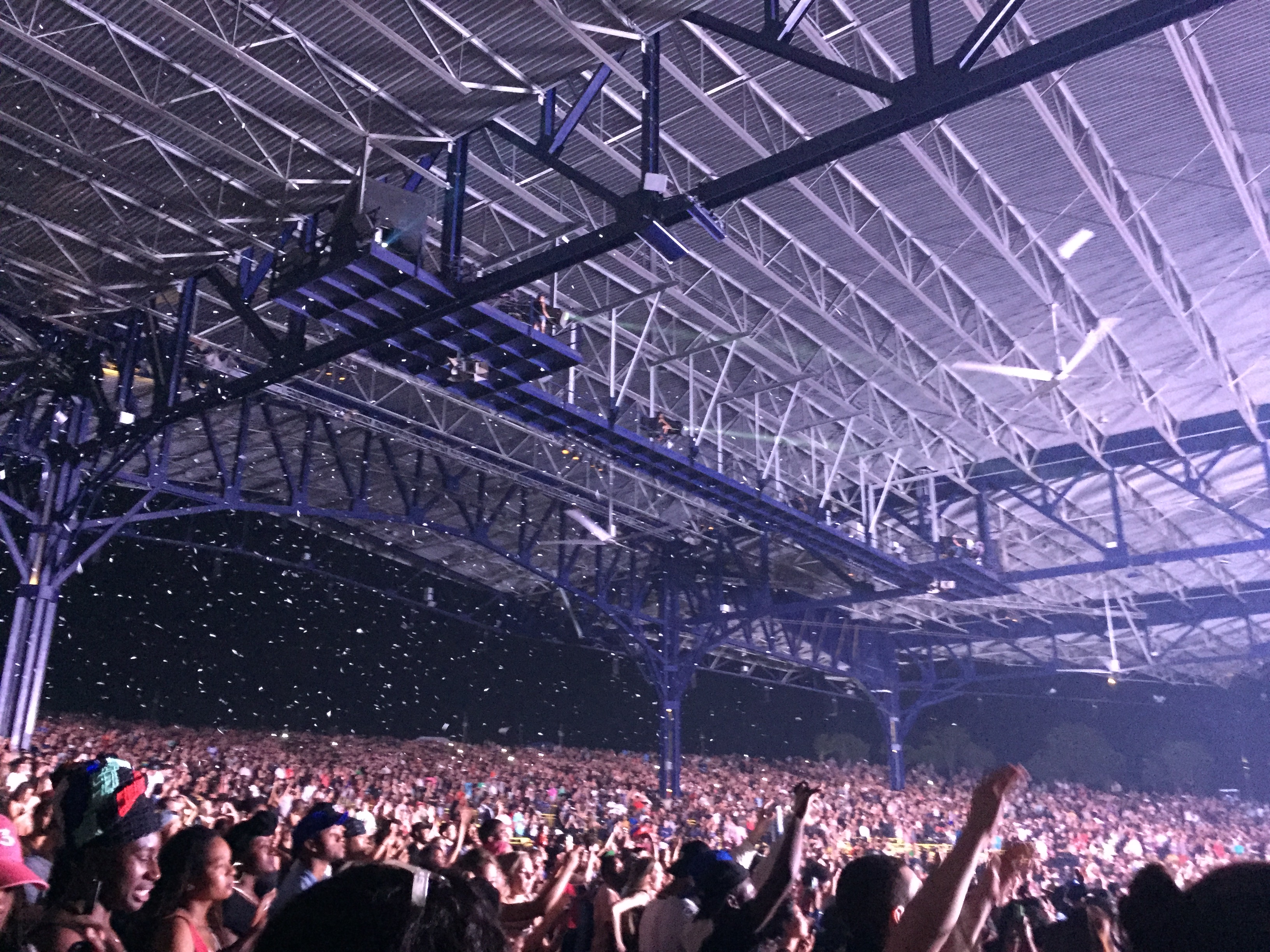 When I was invited to drive to D.C. with my best friend to go see one our favorite artists on Sunday, I couldn't say no even though I knew I had a pre-calc test waiting for me the next morning, committed to babysitting Monday night, and had a benchmark due Tuesday. But it was so worth it.
The past couple years have been really big for Chance The Rapper. Last summer he released his newest album "Coloring Book" and this year he made real history at the Grammy's, being the first person to win that doesn't sell physical copies of their music. He's unsigned to a label and he always releases his music online for free, he combines gospel and rap to form a new genre of music.
After three hours in the car we were finally there. Jiffy Lube Live, a venue right outside of DC, was packed to the brim with 23,000 people.
"I'm not used to performing in front of this many people," Chance confessed to the crowd. "The fans that have been there forever know that I started out broke."
He opened with "Blessings" definitely the most spiritual song on the album. "I'm gon' praise Him, praise Him 'til I'm gone." He had the crowd repeat that hook for a good while and confetti poured over us. I knew that we were in for a great performance.
Chance is known for being a huge fan of Chicago, the city where he grew up. So it was no surprise that he had a huge Chicago skyline on the screen in the back of the stage while he performed "Angels" and "Summer Friends," songs about his beloved city. He jumped around and danced while "CHICAGO" ran across the back screen. He explained that his favorite verse on the album was the second one on "Summer Friends" and had us help him sing it.
The mood changed when he performed "Juke Jam," a song about going to the roller rink with a girl as a teenager and the whole stadium was lit up with phone lights. After that it was "Smoke Break," a tale of two people who need some time to just stop and reevaluate what is going on between them.
He also threw some Kanye West songs in the mix. Chance helped produce Kanye's most recent album, "The Life of Pablo", so we were able to hear a few of his renditions that night. He performed "Waves" and "Father I Stretch My Hands Pt. 1" as well as his verse on "Ultra Light Beam" while pictures and videos of him and Kanye played in back of him.
"I'm gonna turn the lights off and when I turn them back on I want it to be a party," he said. And then "All Night" came on, the most upbeat, party song on the album. The stage lit up with fireworks and smoke machines while colorful shapes played on all screens.
Finally, he played "Sunday Candy" and "Cocoa Butter Kisses," two of his oldest songs on mixtapes he made before he was popular.
Overall, he really made me proud to be a Chance fan. The crowd was very happy and lighthearted; his really positive energy was extremely contagious. I am really excited to see where he goes next and so proud to see how far he has come.