Chiara Nemati and Aaron Watson-Sharer
Opinion Editor and Sports Editor
On March 2nd, Madeline Albright, the former Secretary of State to President Bill Clinton. and Stephen Hadley, the National Security Adviser under President George W. Bush, visited the Franklin Institute to talk to the students from SLA about issues facing the Middle East.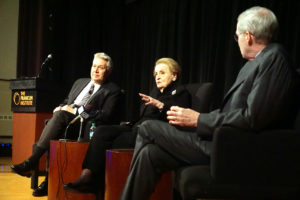 Around 80 SLA students were in attendance. Although the session had a stated topic, it was run in a question and answer format, which resulted in the students straying away from the main focus and very quickly turned towards Donald Trump.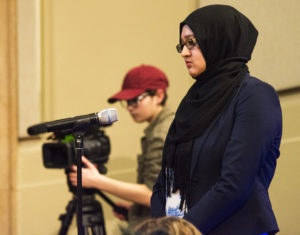 The level of frustration with  Donald Trump was evident in the students' voices. The morning after the national election, SLA had signs outside of the school showing we oppose all forms of hate and discrimination. Our classrooms held long discussion where students could exert their frustrations and concerns under a Trump administration. That discussion at SLA hasn't ended it appears. We had an opportunity to hear from some of the best political figures today on issues in the Middle East but too often the discussion was led to America's political discourse.
Albright and Hadley respectfully answered our question and gave us advice on understanding and combatting this new administration. They focused on how we talk about these issues and how we listen to others. They discussed the art of negotiation and compromise and its relation to Palestine.
In a few different ways, we feel that we disrespected both speakers. Instead of talking about the hard work they put into creating their report for the Middle East we focused on the Trump administration. While there are many comparisons to be made between the Middle East and Trump, the line of questioning did not follow the cross-overs. For example, one student asked about the implications of the previously imposed travel ban. Instead the student should have asked how the new administration should implement and use Albright and Hadley's plan to maintain working relationships with the Middle East and to stabilize the turmoil, allowing the United States to feel confident in their vetting methods and let in immigrants and refugees.
We understand that all of the opinions need to be heard. We are in a tough time and we need to have discussions about the different issues that are arising in our nation. This was not the place for this discussion however.
The most memorable piece of advice we received from both speakers was in order for us to get through these next few years we must work together. We must talk and listen to the other side of the isle. We need to be open to make these deals and compromises. We need to come together to create a stronger nation that represents our ideals. We need to realize that the United States is still a superpower. Many other nations look to us for hope and relief. In order to maintain this deserved status, we must be aware of the issues that encompass the world. These issues are our issues as well.