Chiara Nemati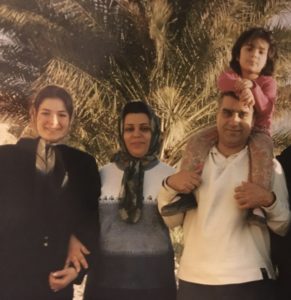 Opinion Editor
Here's something you might not know: I am a dual national, and Trump's travel ban changes my life.
I am a citizen three countries: Iran, Italy, and the United States. Under the travel ban imposed on January 27, 2017 it was unclear whether the ban applied to dual nationals. I would have gone through additional screening upon re-entering the United States due to my Iranian citizenship. This vagueness and unjust executive order lead the 9th circuit court to vote against reinstating the ban.
However, on March 6th, Trump and his administration imposed an "updated" travel ban. That ban affirms my right, as a dual national, to gain re-entry to the United States. However, it still bars incoming university students who have not yet received visas.
Here are a few key differences: Iraq has been taken off the list of barred nations. Syrian refugees are not banned indefinitely, instead they also have a 120 day freeze on the refugee resettlement program. Valid visa holders, and approved by State Department refugees are not barred from entering. Still barred are employees of state universities or businesses who have not yet received visas. This also affects those who need to renew their visas.  Only 50,000 refugees will be admitted to the United States annually as opposed to Obama's 110,000. The ban will not take effect until March 16th.
For now,  I am able to travel to and from the United States as long as I present my U.S. or Italian passport upon my return.
I am relieved. But the problem is not solved for my family.
My father is a sibling of nine. He and one of his sister are the only ones in his family who immigrated to the United States during the revolutionary war in Iran. Throughout my life, I have heard many stories about the atmosphere in Iran during that time and the reason for my father's immigration.  Due to the change in power and intense religious integration to government, his parents decided to send their sons abroad.  Each brother took a test, much like the SAT, for them to be admitted into a university in the country of their choice. My father decided to take the English equivalent of this test. He passed, and was soon headed to America.
He left at a  pivotal moment in the relationship between Iran and the United States. The largest amount of student visas from Iran to the U.S. were seen in 1980. After Iran was declared an Islamic Republic, there was a drastic decrease in the number of students immigrating. Relations between the two nations have been tense ever since.
Today, the only family left in Iran is my aunt. She was the youngest of the nine and was not affected by the war due to her age and gender. Because it is so difficult for us to travel to Iran, she and her husband apply for travel visas every year. However, under this travel ban, they will not be able to obtain visas for 90 days. After those 90 days, we are unsure of what the restrictions will be.
Here is how we plan to continue to visit my aunt: In April, my father will be traveling to Italy to attend my uncle's wedding. My aunt who still lives in Iran will be there as well. Our family is lucky enough to have relatives who have settled all across Europe. Through them we will be able to continue visiting each other. Other families in the same situation are not as fortunate.
The goal of this travel ban is to tighten the vetting process which is already a strong and long process. We have neglected to ask what happens if a country does not comply or if the vetting process is not strengthened in those 90 days. What Trump plans to do after these 90 days is not public knowledge.
The United States has been a sanctuary for my family, and for many others. The travel ban sends the opposite message about what we stand for.  
While the U.S. has never been the perfect nation and has not welcomed all immigrants with open arms, it has always worked towards understanding others and helping integrate immigrants into this country.
Under this new administration my mother worried about going on a radio show to promote their flower shop and explain their exhibit in the flower show. She worried people would not understand what she was saying and that they would get frustrated and stop listening. My parents have accents and it has never been something that bothered them or their customers. My mother has lived in this country for 20 years. Yet she still has to worry about what people will think when they hear her voice.
This is the battle we now fight. Immigrants now have to speak up and worry about things we previously paid no mind to.  People are emboldened by Trump and feel that it is okay to oppress people who may have lived in this country for longer than they have.