Lauren  Nicolella
Staff Writer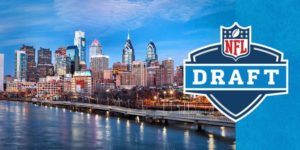 Philadelphia had an awesome opportunity to hold the NFL Draft, but since I'm not a fan of football, it just was an annoyance. SEPTA had a bunch of detours, streets were closed off, people were flooding every corner, and there was a constant whirl of helicopters passing up above. It made it hard to come and leave school, but I guess that didn't really matter since it was such a huge event the city was benefitting from.
On Thursday April 27th, Center City was somewhere I could not stand to be in anymore. Thursdays are usually really long days because of advisory and running practice, so I just wanted to get home since I was super smelly and sweaty. I grabbed my bag from the office and began to speed walk to my stop so there wouldn't be that dreadful moment of the bus driving away without me.
Luckily, I had company with me so I wasn't completely miserable the whole time. Meymey Seng and I usually wait at the corner of 22nd and Market to get the 7, but of course there was a constant line of 44's. We heard friendly chatter of those who take the same bus as us. Someone had announced that there was a detour, so we ran over to 23rd street so there wasn't a risk of missing it.
I constantly checked my phone, hoping that the transit app would actually be correct for once. It had been about 25 minutes and I was getting fed up, but tried to remain calm. I was glad that I didn't have a lot of homework to worry about that night, because at that point I wanted to dive face-first onto my bed and run into the shower. It was so frustrating and I couldn't do anything at all besides wait.
I knew of other buses I could take to get home, so instead of waiting another hour or so for the 7 that obviously was not going to show up we went to wait for another bus. We walked over to 19th street to catch a 17 since they run pretty frequently and is a double bus.
I didn't realize it until we were about to turn onto Oregon Avenue from Broad Street that it wouldn't bring her as close to her house like it does for me. I felt bad because I know we both just wanted to get home. I was happy to hear that she caught a bus that brought her down Oregon Ave the way she needed.
There was a huge sigh a relief after I finally stepped off of the bus, a short ride that took longer than usual. My legs felt so heavy, and suddenly there was the welcoming barking from my dogs. Honestly, there's no place like home when SEPTA takes forever to get you where you want to be the most.
Students who go to school in Center City had major struggles to get where they needed to be, and unfortunately nothing was able to be done about it since the city had been expecting the event to come. Thanks, NFL Draft!