Mekhi Granby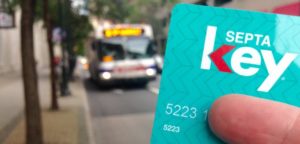 Staff Writer
For as long as I can remember, paying for Septa meant using a transpass, token, transfer, or cash of some sort. With the exclusion of the senior citizens pass, you've got to swipe, drop, or feed your payment into some kind of a machine before you can get a ride.
But now that's no more. The future is here. Ladies and Gentlemen, I have just been introduced to a new option which is the "Septa key."
According to SEPTA's website,the SEPTA key is one reloadable contactless chip card that will offer a host of options. When I heard this I was like "oh okay, that sounds really cool," because everything would be made more simple.
Then I started to think about the negatives…what if you lose it?
The website addresses this problem in its FAQ section. "It's very important that you register your Card if you put money on the Travel Wallet. This way, if your Card is ever lost or stolen, as soon as you report this to the Key Call Center or online, the funds on your Travel Wallet will be protected and can be transferred to a replacement Key Card…"
My biggest issue with this is that it'll discontinue/replace the other forms of payment. For those who actually like making payments with the other forms will be out of luck. I think there are some very irresponsible people who use SEPTA that often lose transpasses and that whole lost key card thing will just be a big inconvenience, but it would be less of an inconvenience than losing a transpass, which can't be canceled or replaced.  
I don't have any other reason for the Septa Key not to be a thing but I don't like how our options in payment will vanish. In terms of preference it may not satisfy everyone. It's like Apple getting rid of the headphone jack on its phones. There's still ways to plug in headphones to your iPhone 7, but not everyone likes it or is happy with the headphone jack being gone. Same goes for Septa, I feel like it'll be the same scenario which kinda sucks.
I like how convenient the septa key can be, but I am also very concerned with how this septa key will work for the future of students. My original thoughts were "the septa key thing will be super cool, nobody has to wait in line for transpasses anymore," but then I heard that it has actual fees connected to an account. Will there be a student septa key? Will it have the same restrictions and privileges of a student transpass?
Other than preference, the SEPTA key doesn't have many downfalls; it's clear to me that it has been extremely thought out and well planned. The SEPTA key will be more convenient for everyone who owns one and the only problem lies within moving into the future and giving up the past. Later down the line when the SEPTA key replaces all other forms of payment, some nostalgia will be created. I'll miss the old transpasses and tokens but things will be much more simplified with the SEPTA key.