Chiara Nemati
As we head into Election Day, Hillary Clinton and Donald Trump pull out all the stops to sway their voters to go out and vote.
Hillary Clinton held a rally tonight at Independence Hall. Chelsea Clinton, Bill Clinton, and the Obamas were present to share their final remarks on this election.
The wait to get in was a long and cold one. I arrived around 5:30 and did not pass through security until about 7:40. Even in the line excitement spread all over. No one could wait to hear the Clinton's and Obama's. 
Chelsea and Bill focused on Hillary as a mother figure and all that she has done on in her past, while the Obamas made the message clear. No one is more qualified to run this country, we will break barriers and continue our path forward. Through these strong words, the air at Independence Hall was filled with hope. The Obamas were able to stress the importance of this election, Donald Trump's downfalls, and Hillary's character and passion all into one captivating speech.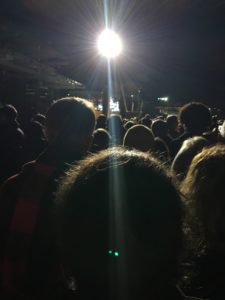 My hope tonight is that those who can vote will make the decision to go out to their polling place. That just like all of the tens of thousands of people who showed up to Clinton's rally will have the patience and willpower to go out and vote. Because as each of the speakers stressed tonight…this is an important election and every and any vote counts.
While I can not vote, I enjoy any moment I can spare learning about our country and the people who have an influence in changing the policies that affect me. So I also urge all of you who can vote to go out and vote.