Chiara Nemati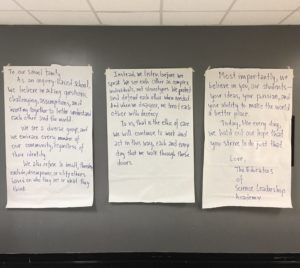 Opinion Editor
Last night I went to bed with the knowledge that the man that is against everything I am had just been elected President of the United States. What happens now? Where do we go from here?
I am the daughter of immigrants. My father is an Iranian immigrant, my mother an Italian immigrant. I am a citizen of three vastly different and ever changing countries. I am a women. I represent everything Donald Trump believes is wrong with this nation.
This morning my brother woke up to knowledge that the man that hates who he is is his new President. My brother like many other U.S. citizens holds a place in this country that is between worlds. He sees his father, a man who has worked so hard to come and prosper in this country, a man who has sacrificed living close to his own family for the benefit of his own, he sees a man who may lose it all. He is left to wonder, is my father's citizenship to this country enough?
This morning my brother asked my father, "What happens now?"
My father said, "We hope…"
So America, now we hope. We hope that the man who has just been elected President of the United States will run this country for the people and not just for the elite and his voters.
We must hope that a man who was not trusted to speak freely on his own, a man who needed his Twitter account to be taken away from him, to run this country. But I ask you, how long will this man need his training wheels? Because that's what they are. His entire campaign staff are his training wheels. They have held him on his course. Steered him back when he went way over the line. This man, who cannot even control himself from more than half an hour, will enter the White House expected to be the Commander in Chief.
In Donald Trump's victory speech, he made a call to unite all Americans. As I sit here and write, I wonder to myself how this is possible. Donald Trump a man who has run his campaign through hatred, racist and sexist remarks, now wishes to unite all Americans. Trump does not speak for me. Donald Trump does not speak for women. Donald Trump does not and has not spoken for the African Americans of this country. For the immigrants of this country. How can he unite us now?
As I woke up in the morning I thought to myself, it's so much more than just who I am and who my family is. This is about all of the leaps and bounds this country has made in the last century. Human rights. Equal rights. Women's Rights. Does it all just go away? I sit here and write and wonder what will happen to planned parenthood? What will happen to the legislation that has been written in favor of the LGBTQ community? What will happen to ObamaCare?
No one saw this Trump Presidency coming. So now I ask you, how can someone who will not publicly support their candidate support their candidate? If you cannot be proud of who you are supporting then why are you supporting them? If you are not proud to be supporting who you are then look at the flaws of the person you are supporting and reconsider the choice you've made. We live in a country of freedom so anyone can support who they want and should not be ashamed of their choice.
Republicans hold majority in the House of Representatives and the Senate. It is hard to see light at the end of this tunnel. All that I believe in is now on the table, ready to be thrown out. I am now going to be living with a President who flip flops on important issues. A President who refuses to reach out to other nations. Who explicitly said in his victory speech that he would only ally with willing nations. Usually we look to the Vice President for a slim shot at hope. But Pence might scare me more. An extremely conservative and intelligent man who will not have much trouble swaying the other Republicans to his side.
I wonder about my future. Where do I go from here? Many students at SLA have voiced their concern. Is college still something that is on the radar? Do they continue with their intended majors or paths? I will continue my education. I will not let this election be the decision maker in my life. I will continue to fight. I will fight in any way I can.
So what happens now? Now we hope. Now we fight. Now we become the hope. For those of us who had to sit on our hands and hope that the rest of the U.S. would go out and vote, we must fight for a stronger and more influential Democratic ticket in the coming election. What happens now is up to us.