On Friday, November 22nd, Congressman Chaka Fattah of Pennsylvania's 2nd District visited the Science Leadership Academy and made a major announcement from the library.
America's FOCUS Act–Focus Act–Funding Future Opportunities & Outcomes in the United States will aim to bring new innovation to education and health.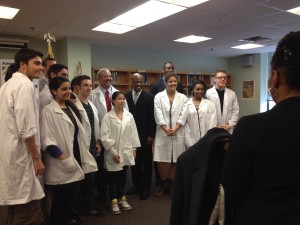 Congressman Fattah cites 14.6 million young people in this country that are in need of mentorship. "Investing in mentoring and STEM education programs ensures that our youth receive the skills and development they need to compete on a global level."
Going along with this, Mr. Fattah mentioned that many children in this country are impacted by the incarceration of the adults in their lives and proper mentorship can fill that void.
The bill proposes that the money generated through corporate fines, penalties and settlements should be directed towards Funding STEM (Science, Technology, Engineering & Math) programs, medical research & innovation and justice reinvestment.
In addition, Mr. Fattah seeks to fund "Meaningful investments in medical research and innovation [that] guarantees that our citizens live longer, healthier and more productive lives."
Science Leadership Academy as a venue for the bill announcement was only decided briefly before the event actually took place. According to Jeremy Spry, "Allyson Freeman [Fattah's Communication Director] cold called the school and explained it, and asked who would be in charge of that, I ran it by Lehman and it was set up."
The bill is currently being supported by the National Association of Counties, National Urban League, Boys and Girls Clubs of America, Big Brothers Big Sisters of America, MENTOR, First Tee, Civil Air Patrol, U.S. Dream Academy, American Brain Coalition, National Council of Community and Education Partnerships and Amachi.