Lia Dunakin
Staff Writer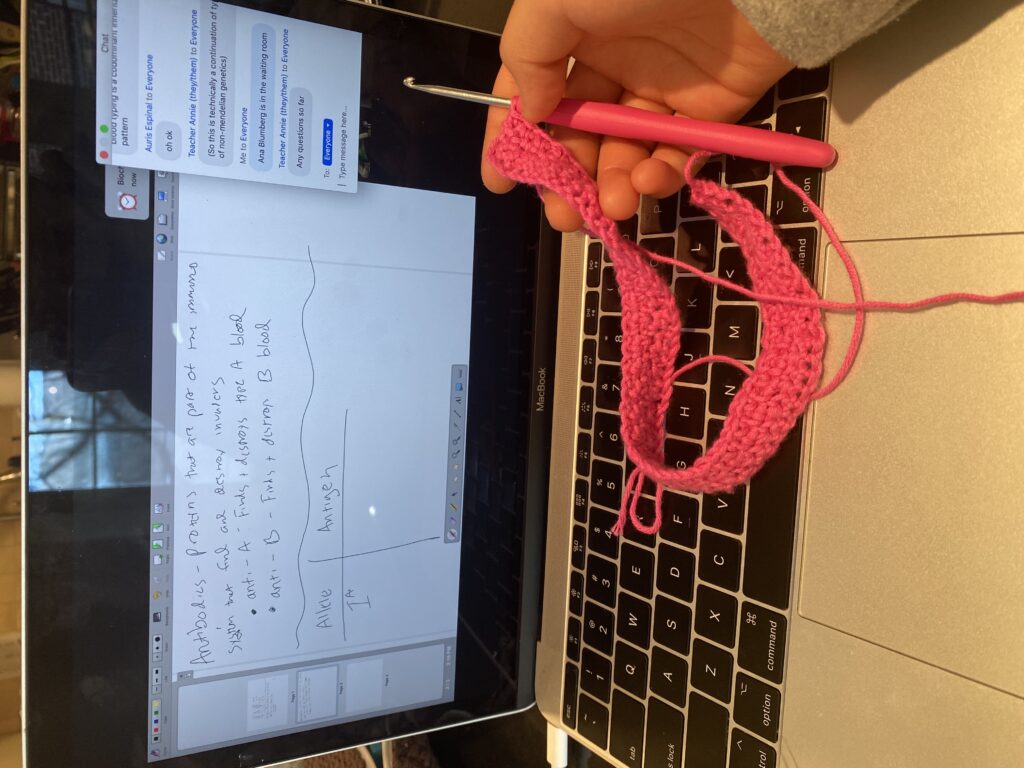 There is a new trend at SLA. Students in every grade have started picking up this new hobby. During covid, everyone was looking for something different to try out — exercise, pottery, cooking or baking However, crochet has seemed to have stuck around.  However, this pastime is getting a mixed response from s students and staff. 
There is an arts and crafts elective this year at SLA. Students who are interested in activities such as crochet and knitting. Students who have never done these before now have the opportunity to. Vice Principal Ann Leaness, who is the staff member teaching this class, offers any student interested in crafts, free materials, such as yarn and crochet hooks. 
Ms. Leaness started her elective about 3 years ago, hoping to create a space for kids to learn non-traditional art skills. Outside of her classroom, you will still see students crocheting. 
Most teachers are very supportive and accommodating to this new hobby, and Ms. Leaness expressed excitement towards that. She says, "It's a great stress reliever, and it's also great for kids that have a hard time sitting still and paying attention." 
However, not everyone is on board. Some teachers find that crochet or knitting is distracting for their students. 
Biochemistry Teacher John Henkel banned crocheting and knitting in his class. He says that he feels the activities are distracting, this being the only reason this isn't allowed in his classroom.  
"If it were video games or magnets that were distracting students, I would ban those too," he explained. 
A visitor to SLA will still find students crocheting in the social areas of the school, the ballroom, the commons, and even just in the hallways.
Some students have even started their own crochet stores on platforms such as Depop, an app that is known for people selling second hand clothing, but is also a place where people can  sell clothes that they make themselves
Sophomore Milani Zayas set up a store on Depop, called "Things by Inalim," to sell her own crochet creations. She currently offers fingerless gloves, ear warmers, crochet shirts and other items. Each item takes her anywhere from 3-10 hours to create.
"I love seeing people crochet in class. It's really nice to see other people with the same interest as you. I also love talking to people about what they're making and what their next project is," said Zayas.
She also mentioned that she tends to crochet when she feels anxious because it's soothing, and that she would recommend it for anyone. 
While the student crochet trend has its limits, the trend shows no signs of slowing down.