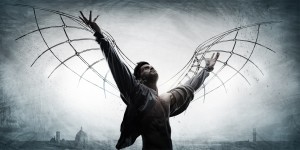 By Sean Morris
Staff Writer
Shows about the lives of famous and infamous characters in history can often be well and entertaining — think of "The Borgias and Narcos " — but can just as often be dulled or limited by how they tell it- think "Reign" I am happy to report that  this is not the case with Da Vinci's Demons.  The show manages  tell actual historical events while also creating original content and incorporates several fantasy elements that give the series a unique and vastly interesting edge.
The series follows a young Leonardo Da Vinci as the genius vastly ahead of his time when he is entangled in the political mechanisms of Renaissance Italy with the Medici and Pazzi clans, and especially the Church of Rome lead by the sinister Pope Sixtus IV. Leonardo also discovers a cult known as the "Sons of Mithras" who send him on the path to find an object known as "The book of Leaves": a mystical object said to contain a wealth of hidden knowledge.
While this could come off as cheesy, it does for the better part able to keep it genuinely interesting and fascinating- especially how they are able to mix in the actual historical events during this exciting time. For example how they include the assassination attempt on the Medici family, the mad King Ferdinand of Naples' museum of mummies, the Ottoman Invasion of Otranto, and is able to make detours off the historical map like when Leonardo and company  take an expedition to South America (actually) to Machu Picchu and more: but I won't be revealing much more as it would spoil some interesting surprises.
Aside from Leonardo, there are a wealth of interesting historical figures from patron of the arts Lorenzo de medici, the right hand of the pope and essentially the Darth Vader (black cloak and all) for the Catholic church: the hoarse count Riario, the man who became the namesake of America: Amerigo Vespucci to Vlad the Impaler aka Dracula himself, who steals the show in one of the series's best episodes –and looks set to return for its final season.
As fun and cool I find the show, I wouldn't be doing my job if I didn't mention my gripes with the show as well. One of which is the character of Niccolo Machiavelli, who in his late teens seems to have been made to be one of the least interesting characters of the show when he was one of the most interesting men of not only his time but all time. Unfortunately, He is a thoroughly un-Machiavellian Machiavelli, while some could chalk that up to his youth, it still would have been satisfying to see seeds of his nature and the origins of that.  I felt that Eros Vlahos was a miscast in the role, and should have been taken by someone who could tap into the darker and more ruthless side that someone can take, rather than both looking, acting and being used as a sort of damsel of distress, which was as far from what the historical character could be.
Additionally- and this is one of my biggest critics of the show is on the subject of Leonardo Da Vinci's sexuality. In the show his main love interest is a woman, and suppose to be attracted to women, while in history it's quite clear that he was gay. While they do mention and show that he is attracted to men as well (such as having him arrested on charges on sodomey like in history) it's played VERY second base to his relationships to women. For example in the show his main love interest (although the show does not center on this) is Lucrezia donati and they have sex like three times, later marries the Incan priestess has sex with her, but hey he gets one guy kiss on screen. This bothers me a lot since there isn't any hour dramas–at least that I can think of–that are lead by a gay man; and this becomes a thoroughly missed opportunity that should have been clear as day for them to do.
Despite my critiques, I do, on the whole, enjoy the show. It's cast is the rare combination of being both eye candy and good at their jobs- especially the energy from Leonardo and the menacing whispers from count Riario. The costumes are wonderfully designed, the sets are craftily made, the score is beautiful and its opening credits sequence is one of the best I've ever seen.  They do an excellent job at bending the reality of history sometimes straight up breaking it but ultimately incorporate multiple elements from history and work with them to create one of the best and most interesting not only historical shows, but of all shows that I've seen in a long time.
The final and 3rd season premiere is this Saturday the 24th on Starz,  but feel free to catch up by viewing the first two seasons on demand or through Starz online episodes.