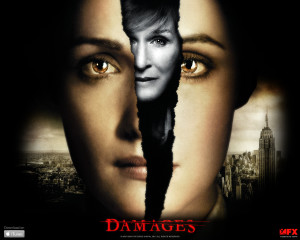 Sean Morris
Staff Writer
Before Francis Underwood killed a dog in cold blood, before Annalise Keating manipulated law trainees, before Walter White did illegal acts in the name of a good cause there was one woman who did all of this, and more, but never with quite the cold heartedness and grace that exists inside of Glenn Close's Multi-Wmmy winning and critically acclaimed role as Patricia "Patty" Hewes.
The series first begins with the young lawyer Ellen Parsons (played by Rose Byrne- who was nominated for the series multiple times). We find her wandering the streets of Manhattan covered in blood. The show then cuts back to a few months earlier as she first gets a job at Patty Hewes prestigious law firm, where Patty is trying a case against ruthless billionaire Arthur Frobisher (played Ted Danson- who was twice nominated for an Emmy in the series) and his secretive lawyer Ray Fiske (Željko Ivanek- who won an Wmmy for his role).  Ellen soon realizes that this case is more closely connected to her than she thought and gets pulled into Patty's web of lies, secrets and murder.
Each season tackles a new case for Patty and her firm, and each one with layers of intrigue, deception and even personal connections to Patty and Ellen. Many of the cases reference real life events like the Iraq war and the Bernie Madoff scam. Throughout the series one, of the most interesting dynamics to see is the complex relationship between Ellen and Patty.  Together they've  been  teacher and student, enemies, friends, and more, but what cannot be denied is that they bring out the best, and worst in each other and for Ellen she see's a glimpse into her potential future and for Patty she see's a younger version of herself- and neither of them are certain if that's a good or bad thing.
Glenn Close is consistently stellar in the series. and she alone makes it worth watching  In bringing to life Patty Hewes, she brought to life one of the most formidable characters to, in my opinion, ever come onto any media format: whose craving for victory and power over all aspects seemingly holds no bounds and has resorted acts that are just shy of eating her own children.
But another great piece of acting comes from Rose Byrne, whose character goes through some of the most interesting developments of Walter White/ Peggy Olson type character evolution I've ever seen. She and Close bounce off each other like rubber to cement and are electric in every scene.
However, I would be remiss  if I didn't mention some of the stellar co-stars, most noticeably Ted Danson's corrupt CEO manages to be the complete antithesis of what one would imagine a corrupt CEO- hardly wears a suit, seems to have some genuine feelings of remorse and care for his employees, sort of buffoonish- but manages to make you feel both hatred and sympathy for him, thought mostly the former. The Show also has a stellar supporting cast which includes several A-listers lending their talent: : Tate Donovan, who plays Patty's right hand man, John Goodman, John Doman, Ryan Phillippe, Timothy Plyphant, Noah bean,  Zachary Booth, Martin Short, Marcia Grey Holden, Lily Tomlin, William Hurt, Tom Noonan M, John Hannah, Campbell Scott, Clarke Peters, Glenn Fleshler and many more.
The show's nonlinear storylines and compelling characters make Damages  exactly like the kind of show that many people at SLA enjoy, but done much better than a lot of them. All episodes are on Netflix and thus should be your Thanksgiving viewing pleasure!