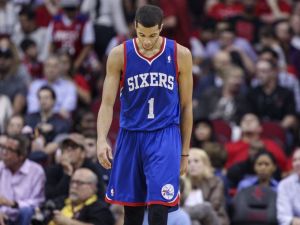 Benjamin Simon
Staff Writer
Dear General Manager Hinkie,
I remember when I loved watching the Sixers. I've always had DirectV so I've never had the games on television, unless it was on ESPN. But I always found a way to follow the game by listening to the radio or watching GameCast. After hours at school and more time at sports, I looked forward to coming home, relaxing, and enjoying the Sixers. I enjoyed watching them win.
I remember going to a playoff game in 2011 against the Heat. They lost, and everyone knew that there was no way they could beat the Heat. But the stands were sold out, everybody in a white t-shirt, cheering on the team of Philadelphia.
I remember just two years, sitting in front of the TV watching the Sixers beat the Bulls in the 2012 playoffs. JUST TWO YEARS ago, I was watching the playoffs.
I remember being yelled out by father, because I would cheer so loud whenever the Sixers made a big play, as I listened to the radio.
I remember being excited for each and every game. Preseason games. Regular season games. Playoffs games.
I remember being excited and proud to say that I was a fan of our tough, gritty, and talented Sixers.
But now I come home and I forget the Sixers are even playing. I want to know, but its hard to care, when their manager sets them up to lose. Its tough when you open your phone to see that your favorite team is losing 73-29 at halftime. It's discouraging and upsetting, to the coaches, players, and especially fans.
I understand the idea of tanking. In theory, make your team so bad, that they lose as many games as possible to get a good draft pick. But there are many grey areas within this method. What if the player does not turn out to be as good as expected? What if you don't actually get the desired pick? What if you lose fan support throughout the time?
Three years ago, the Sixers won nearly two playoffs series. Two years ago, the Sixers had a troubling, yet promising year. Jrue Holiday was an all star. Evan Turner showed glimpses of promise. Nick Young could score from all places at times. They just missed some pieces. They needed a big man, a new coach, and maybe a consistent shooter. But these were things we could have fixed instantly. A couple draft picks and free agent signs away, the Sixers would be right back in the playoffs.
Instead, you decided to trade away our future and ended all hope of playoffs. All hope of anything good for the fans of the Sixers. During the 2013 draft, you, Mr. Hinkie, traded away Jrue Holiday, our all-star, for an injured center who never has reached his full potential. That was the beginning of our downfall.
At this time, I began hearing talk of "tanking". The Sixers would be "tanking" for the next years. I looked up the word, talked to people and noticed this word meant that the Sixers would suck for the next couple years so they could get the best draft picks possible.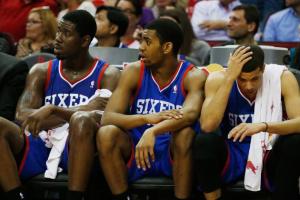 Soon the playoff team I once knew, was composed of washed up minor league players, old players no one wanted, and draft picks that were to come seven years from now. We are entering a dark tunnel with no clue where we will end up when we come out.
The other day, I looked up the most commonly cited example of tanking in sports: the baseball team, The Houston Astros. For the past five years, the Astros have had multiple one hundred loss seasons, an unthinkable feat in baseball. Things are looking up, but the losing years are only continuing. With another ninety loss season under their belt this year, they don't seem to be winning specifically soon. They might be good sometime in the next couple years, but is it worth the ten years of waiting, if they are only successful for a couple years after that? The draft picks, the stars that teams groom and work so hard to get, are all bound to leave when the opportunity presents itself. They will pounce to the dominant teams and most of all, the teams that can offer them the most money.
This method can be represented by many players across all sports. Basketball superstar, Shaquille O'Neal was drafted by the Orlando Magic. After a successful first couple years, he bounced out of Orlando to the Los Angeles Lakers for the better location, more money, and chance to play with Kobe Bryant. In baseball, Alex Rodriguez left his first team, the Texas Rangers, for the bigger and more profitable market of New York City.
Since the Sixers don't necessarily have the basketball market or the city of the Knicks or Lakers, we are bound to have this cycle occur to us again and again, like many other sports teams. Groomed stars will ultimately leave for the more desirable situations, regardless of their allegiances.
And the thing is, the Sixers had a chance to improve, years ago. What's the point of tanking, especially when you have a chance to win before hand? Why tank at all?
As a player, it is insulting. As the general manager, you are telling him, "we are bringing you in here because you suck and will help us lose."
As a coach, it is insulting. As the general manager, you are telling him, "we are bringing you here to coach a team that is incapable of playing basketball at an NBA level. We are setting you up to lose and ultimately fired."
And as a fan, it is insulting. As the general manager, you are telling us, "we don't care about you."
At this point, who is left on your side?
Sincerely, your fan,
Benjamin Simon