Benjamin Simon
Staff Writer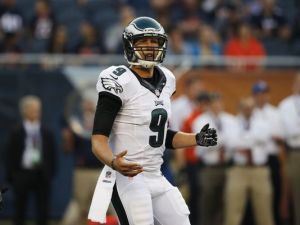 Dear NFL Fans,
I used to think the Eagles were overrated. I saw a team that overestimated their ability last year. A team that didn't have the mental or physical stainability to compete with the best.
I used to think the Eagles were weak. They were a team that would crumple under pressure and not be able to execute their plays when it was absolutely time.
I used to think Chip Kelly was arrogant, dirty, and inequitable.
I used to think the management was setting them up to lose. Why wouldn't you draft a cornerback with one of your top picks? Why would you sign speedster Darren Sproles when you already had three sufficient running backs? Why would you release place kicker Alex Henery, when he been quite efficient in his time here?
And I still agree, even a week after the strong 33-10 victory over the Cowboys.
If someone told me, a team has only played five teams with a winning record throughout their twelve games, and of those five games, they were a troubling 2-3. I wouldn't be impressed. This Eagles team is not tough, elite, nor built for the big stage. During the first game of the season, they started down 17-0 against a rebuilding and struggling Jaguars. Later, after leading 34-7 against a Rams team with a sub .500 win percentage, they gave up 21 unanswered points, and handed the Rams a chance to win.  In games that should have definite blow outs, the Eagles made it into a battle.
To add to that, the Eagles have the 7th highest turnover margin in the NFL as of right now(-6); tied for the 5th highest amount of fumbles (20) and tied for the 1st highest amount of interceptions (16) on the year. Yeah, there are the flashy numbers (286 passing yards per game), but a team cannot contend for a super bowl ring if they are so sloppy on offense. And I remind you: these stats come despite playing more than half of their games against sub .500 teams. Not very convincing to me.
But I don't necessarily blame it all on the amatuer cornerbacks or the careless throws or the troubled offensive line. I think General Manager Howie Roseman and Coach Chip Kelly also have large roles in their iminate struggle.
The foggy decisions by the Eagles management started about a month prior the 2014 NFL Draft, when Pro-Bowl wide receiver Desean Jackson was released. Amidst the questioned release, the Eagles blamed it on Jackson's affiliation with gangs, which turned out to be a pile of junk. It was just an easy way to explain why they were sending their superstar wide receiver towards unemployment. But it also was not nearly close to the truth. It was sleazy, unjust, and just proved the personality of the organization. The are willingness of Kelly, Roseman, and the whole Eagles organization to taint a career to get what they want, instead of being upfront, is unimpressive.
Something else that has always baffled me is the signing of Riley Cooper. 5 years and 25 million, for a backup receiver. Yeah, he had some good games last year, but not enough to warrant a 5 year deal. I think we needed one more year to see what he was made of. This year, Cooper has only had two games with more than 50 yards. He has only one touchdown. And only one game with more than 5 receptions. This is scary, for a guy we committed to for the next 5 years.
And lastly, I don't think this Eagles can go to the super bowl with Nick Foles as their franchise quarterback. Yeah, Foles was impressive last year, but do you remember former Phillies pitcher J.A. Happ? Yeah, I know, he played baseball, but the same idea is present in both situations. Happ was stellar his rookie season with the Phillies, posting an appealing 2.93 ERA. But in the past five years since his first season, his ERA grown and grown, so much that it was a scary 4.22 this year as a part of the Toronto Blue Jays this past season. The reason? In his rookie season, there was no tape on Happ. No one knew his pitches, his tendencies, and flaws. Most batters know the pitcher's characteristics before they bat, but they couldn't with Happ, because he hadn't been in the league! However, they now know his pitching aspects, explaining his struggle.
Same with Foles. As a rookie, no one had seen much tape on him. But now they know him, and they know where he struggles. Elite quarterbacks figure out ways to escape this trap, but throughout this season, Foles has shown me that he is confused, at a disadvantage, and not an elite quarterback. As defenses are figuring him out, he is having a hard time figuring them and their schemes out.
As you can see, the Eagles are in no place to contend for a super bowl title this year. Maybe in a couple years, when the gaping flaws are concealed, but this is not the year.
Sorry Eagles fans.
Sincerely, your fan,
Benjamin Simon