Staff Writer
Sara Nesbitt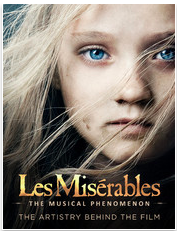 After just two weeks in theaters, the movie version of Les Misérables has brought in over $71 million in ticket sales, and was nominated for four Golden Globes.
This is the first movie version of "Les Mis" — it is based on the original play that appeared on broadway in 1987, which in turn is based on the book of the same name by Victor Hugo. Because the story has been around for a while, the movie's audience has a large spectrum of people aged from teens to adults —  including plenty of students at SLA.
So why do people think this recent musical is so good?
Maybe Hugh Jackman's good deed adopting a child? Or the love triangle between Amanda Seyfried, Eddie Redmayne and Samantha Barks?
Sophomore Leah Kelly was a big fan of the movie. "I enjoyed it so much, I would definitely say it was the best movie of 2012," she said.  "I thought that all of the actors were spectacular, especially Anne Hathaway. She was so emotionally into her character."
Sophomore Nomi Martin-Brouilett had also seen the play.
"I thought that the movie did the play justice," she said. "The actors were all perfect! I was expecting the movie to ruin it, like books usually are ruined by movies, but I thought it did a great job!"
Not everyone is into the whole musical aspect of the movie, however.
Junior Abou Hinson went to the movies wanting to see anything but Les Mis. Since there was nothing in theaters to his liking, he decided to give it a try. After the first few minutes, Hinson walked out and asked for his ticket to be refunded.
"I went in when the girl was getting her teeth ripped out." he said. "Within two minutes of being in there, I fell asleep. That movie was ridiculous."
Junior Jake Lotkowski also wasn't a big fan of the movie. "Once I heard it was a musical, it made me not want to see it even more."
Musicals always get mixed reviews, purely because they involve singing actors. Whether it's Le Mis, Hairspray, or Sparkle, good luck to all of the musicals out there.