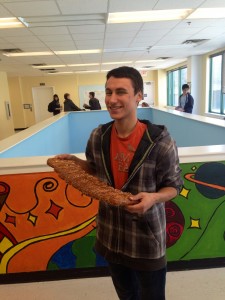 By Jacob Lotkowski
Staff Writer
There is a crisis among church leaders and parents–but this crisis doesn't phase youth.
According to NPR, "one-fifth of Americans are religiously unaffiliated–higher than at any time in recent U.S. history–and those younger than 30 especially seem to be drifting from organized religion. A third of young Americans say they don't belong to any religion."
This interview is a part one of a three part personal interview series on what religion means to students in our school. This series sets out to answer what role religion plays in our lives and if how we think about religion has changed as we have grown through grade school and moved onto high school.
In this interview, Junior Anthony Buchanico describes how religion has played into his life and how it has changed for him over the years–up to the present day.
Jacob Lotkowski: What religion were you raised as?
Anthony Buchanico: I was raised as a Catholic.
JL: How strong were your family's beliefs?
AB: About as strong as the next families, we go to church every now and then–but less now that I'm in high school. Seeing as I used to go to a catholic school. But we still pray every now and then.
JL: How did that impact you growing up?
AB: I mean, since I grew up in a catholic school, every Thursday we would go to mass, and then we'd celebrate all the holy seasons–pray the rosary and what not. It kind of becomes a big part of you. Growing up–it's something where you just think of every day.
JL: At what age did you drift from your religion?
AB: I drifted a little bit since I entered high school. Since it was such a big change–like I don't think I've been to church in two years. 
JL: How do you feel about religion since you were younger?
AB: When I was younger I didn't really get it as much, like, everyone was doing it and it seemed right. Now that I'm older I see religion as something that is good to have, but not something that everyone needs.
JL: Are there any political or social reasons you drifted?
AB: People are ignorant and mean. That's basically it.