Fantasy Football for Dummies- The Straight Shuter
Jesse Shuter
Staff Writer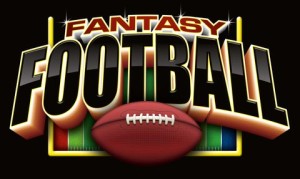 Photo courtesy of http://minnlawyer.com/jdr/2012/08/23/fantasy-football-isnt-illegal-right/
With most fantasy leagues entering the playoffs, I thought it would be a good time to teach those of you that are not aware of what fantasy sports are, or why they are so popular, exactly what everyone is raving about.
Mostly popular among older men, fantasy sports are becoming more and more popular and well known. It allows people who may not otherwise be interested in sports find that pull in a fun way.
Basically the idea for fantasy football is that you draft a team of players from the real National Football League (NFL) and then your team in pinned against the other teams in your league and the team with the most points in a given week wins that week. There are many variations of rosters and point systems, but there is also the standard setup.
The standard fantasy league roster contains a quarterback (QB); two running backs (RB); two wide receivers (WR); a tight end (TE); a flex (RB or WR or TE); a team defense; kicker (K); and 7 bench spots. The standard point system works this way: for a quarterback every 25 passing yards is a point; for everyone, every 10 rushing yards and every 10 receiving yards is a point. I say everyone because technically anyone can run or catch the ball, typically a RB runs and receives, a WR and TE just receives and a QB just runs but mainly passes. Also for everyone a touchdown is six points and a two point conversion is two points. For a kicker, a field goal is three points and an extra point is one point, however a fifty+ yard field goal is four points.
A defense is different, you start with ten points and lose points based on how many points and/or yards you give up to the other team. You gain points by getting sacks, interceptions (INT), fumble recoveries and defensive or kick return touchdowns. A sack is typically one point, INT and fumbles are two, and touchdowns are six.
At the beginning of the year the teams set up a draft where they either take turns picking players in a snake draft (1, 2, 3, 4……7, 8, 9, 10, 10, 9, 8, 7, 6…) or they draft players by bidding in an auction. In the auction, you start with a given amount of money and need to have at least one dollar for every player, so obviously the better players go for more money but you don't want to spend 100 dollars on one player, because depending on the amount of money you start with, that could be half of your stash on one player.
Once you have drafted your team you follow your team throughout the year. You have a bench, so when a player in your starting lineup gets hurt you can swap them for a bench player who is reserved on your team but not active. You do not get the points from players on your bench, but it is a good storage spot for players you might need and do not want other teams to have the opportunity to own.
The next thing to understand is the bye week system. Every football team gets one week off to rest, and when that week comes you need to be prepared with a replacement player. Usually that player will be on your bench, however, for kickers and some lesser defenses, the points are not any different than a free agent. Therefore, you can just add one from the free agency pool and drop yours.
The free agency pool are the players that are unowned, typically you use it when one of your players turns out to be a bust or when one of the available players turns out to be a stud. There is also the waiver period. When a player is dropped from another team in your league or even your own, or after a player plays in their game in a given week, they go on waivers for typically a three day period. A waiver period is a length of time (determined by the league) that available players sit in free agency, but they are locked, meaning that they cannot be added during the waiver period, but a request to add them can be made. This way everyone has the chance to realize that they are available, and then the person with the highest waiver claim, which is determined by the draft order and whether or not you have used you waiver yet, gets the player, assuming they want him.
An integral part of fantasy football is trades. Trades are very simple, sometimes you get tired of your players or (as an example) you have an excess of running backs, you have a great one sitting on your bench, you can't get any use from him, but someone else can. Meanwhile you don't have any good wide receivers. Trades exists so that you can trade your players that you don't need for ones that you do.
Speaking from experience, fantasy football is a wonderful thing. When I was younger I knew almost nothing about sports, but through fantasy football, I have learned a lot and I like to think of myself as knowledgable when it comes to sports. If you have an interest in learning about sports, I recommend joining a fantasy league.
Shuter's Love/Hate:
In honor of this article being focused on fantasy sports, instead of a takeaway, I thought I would expand on my sleeper pick giving my favorite and least favorite pick at each position.
Quarterback:
Love- Nick Foles, Philadelphia Eagles v. Detroit Lions
Now I might be a little bit biased because of my being an Eagles fan, but I think Foles is poised for a big week. He is one touchdown away from tying the the record for most touchdowns without an interception, and don't you think for a second he isn't aware of that.
Hate- Russell Wilson, Seattle Seahawks at San Francisco 49ers
He is coming off a big week, but I have not been tricked like others. Seattle is the most up and down team in football. On a good day, there is by far no one better, but on a bad day just about anyone can keep up with them. So this week they leave their safe, cozy, record noise breaking home and go on the road to a competitive San Fran. I still think they will win, but not by much.
Running Back:
Love: Matt Forte, Chicago Bears v. Dallas Cowboys
Forte has proven to be a stud, this week he is at home against the horrible Dallas run defense. I predict 100 yards and two touchdowns.
Hate: LeSean McCoy, Philadelphia Eagles v. Detroit Lions
As much as I hate putting Shady here, he is going against the best defensive line in football on a day where it looks like it may snow. Nothing against his skills, but this is a recipe for disaster.
Wide Receiver:
Love: Mike Wallace, Miami Dolphins at Pittsburgh Steelers
His return home should be good for him. I have a feeling he will want to stick it to his old team, and what a perfect way to do it by running circles around their weak secondary.
Hate: Anquan Boldin, San Francisco 49ers v. Seattle Seahawks
Anquan started the year hot, but paired against Richard Sherman the Sherminator, and with Michael Crabtree back stealing the show, I don't know if he gets a catch.
Tight End:
Love: Jared Cook, St. Louis Rams at Arizona Cardinals
The Cardinals have a good defense, but they haven't been able to stop a tight end all year, and Cook is a very talented tight end. If anyone scores a touchdown for the Rams it will be him.
Hate: Coby Fleener, Indianapolis Colts at Cincinnati Bengals
The Colts have been struggling as of late and Fleener may not do too well against a relatively strong Bengals defense.